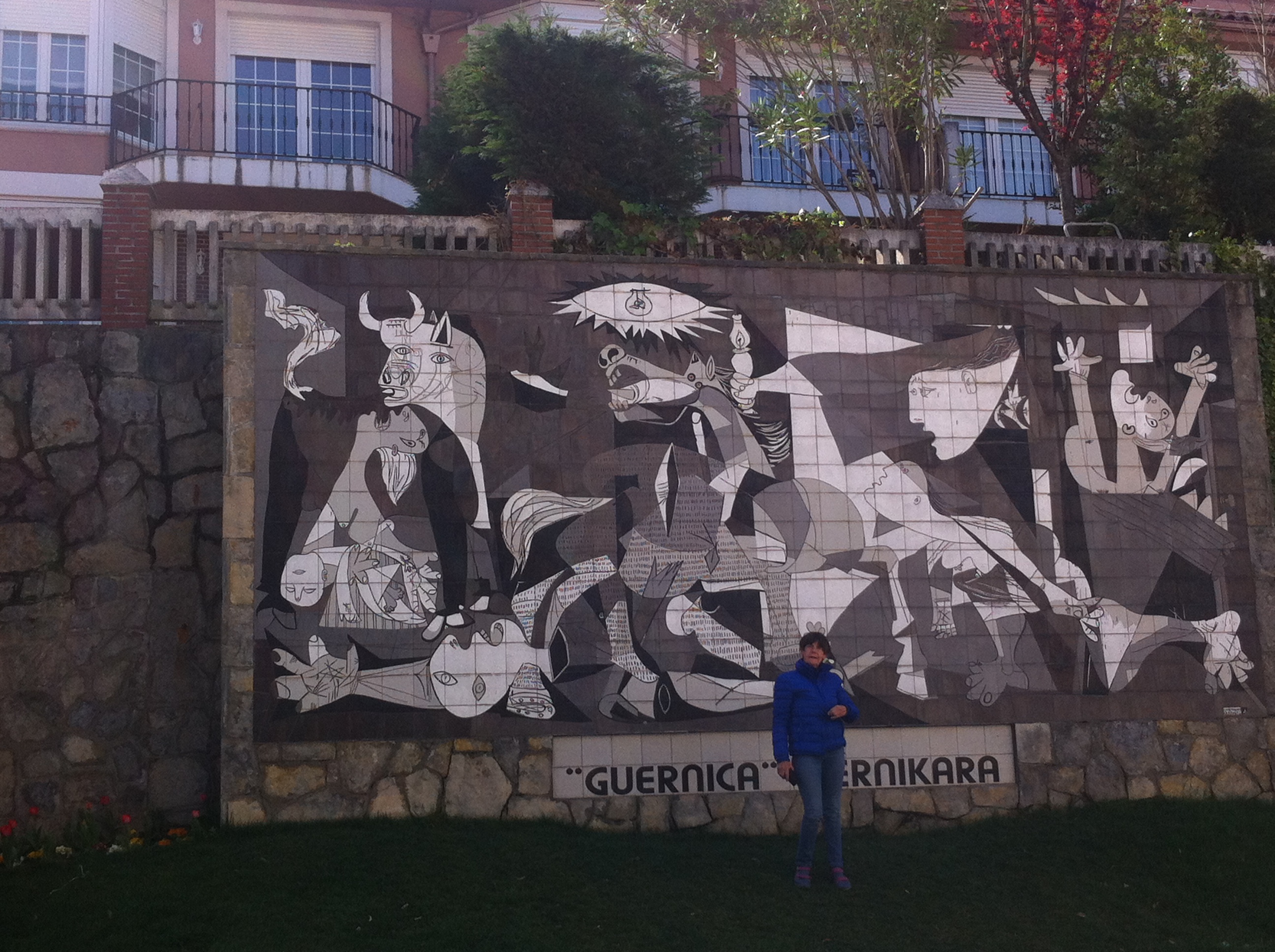 Table of Contents


1. Costa del Sol, Hating America, Muslims, Corruption, Dolmens—page 2
2. Art, war and peace --page 11
3. Almería and Podemos --page 15
4. Barcelona, Catalonia sovereignty, and civil war --page 20
5. Basque Country: Bilbao, San Sebastian, Gernika --page 24
6. Atapuerca UNESCO world heritage site: Who are we? --page 32
7. Madrid and conclusion --page 37

Cover photo of Picasso's "Guernica" placed on a wall in the Basque homeland city "Gernika". Jette is in front.
Introduction
Concomitant with soaking in the healing sun far from grey Denmark, my sweetheart Jette and I witnessed important developments as we traveled through Spain the first two months of 2017.

We observed ancient grave sites and geological peculiarities, and hiked mountains inhaling the rich botany. We lived in or visited the south, east and north from Fuengirola, Mijas, Antequera, Granada, Málaga (Picasso's hometown) to Almería, Barcelona, Bilbao, San Sebastian, Guernica, Burgos-Atapuerca, and Madrid.

We spoke with people involved in the ETA (Euskadi Ta Askatasuna/Basque Homeland and Freedom) as it was surrendering its weapons 58 years after its formation. Three Catalonia's political leaders were sentenced for disobeying Spain's constitution by calling for a symbolic referendum just. The judges also warned the new Catalonian regional government against any such referendum. Podemos—suddenly the third largest political party with 21% of vote—emerged from internal debate with a united leadership pointing in a reformist direction.

Moreover, we learned of amazing scientific discoveries of Europe's earliest identified people, Homo antecessor (Explorer), found at Sierra de Atapuerca. Fossils were also found of the uniquely caring Homo heidelbergensis, and a 1.3 million year-old jawbone of an as yet unidentified hominid. Many of these fossils are on public display in the nearby Burgos Museum of Human Evolution.

1. Costa del Sol, Hating America, Muslims, Corruption, Dolmens

Randy Shields, a witty, searing Philadelphia writer and musician, and I share a hatred for the United States of America. We hate its self-perceived "exceptionalism", which it uses as an excuse to lucratively invade half the world's countries, murdering millions of people and torturing hundreds of thousands.(1)

"I'm gonna take 60 days off from hating America to enjoy the sun in Spain and do my best to avoid writing about any of it." Randy: "Trip to Spain sounds great but it is possible to hate America from anywhere!"
Randy was right, of course. I couldn't avoid hating USamerica and neither could I, as this piece proves, avoid writing about it—a poor substitute for effectively acting to stop its killing machine.

The evening after arriving at our pension-affordable rental apartment in Fuengirola, we watched a lively Flamenco dance group while eating a marvelous seafood dinner at a popular restaurant. Next morning, we ate breakfast on our terrace facing the Sohail Castle (meaning "star" in Arabic) so named by the Caliphate of Córdaba when Arabs dominated Andalusia. This watchtower-fort-castle was built on the hill in the 11th century. We took a relaxing swim in the wonderfully clear blue Mediterranean Sea just meters away. But alas! Already in the evening did the monster appear!

We heard voices over loud speakers and peered down on the street from our apartment building. Several police in a handful of vehicles had blocked an entrance to a highway. They were looking inside cars, waving some on or stopping some, and questioning and searching those with Arabic features. I went down to the street and engaged two motorcycle policemen in a dialogue.

Why this checkpoint? Nothing special. Just routine check for terrorists. Why are they all Arabic looking? There are Arabic terrorists in Europe. Who started the terrorism? Silence. A lecture followed outlining that Spain has been an active part of the US's "Coalition of the willing" in invading and murdering Afghans, Iraqis, Libyans, destroying several Arabic-Muslim countries. The cops kick-started their machines and drove off to stop a car on the other side of the road. A family of Arabic-looking people got out of the car and the man was interrogated. I walked as the police pulled away. They told me they were asked why they were here. They were on vacation from Morocco and were baffled by all the questioning. I referred them, as I had the police, to information you can read here. (2)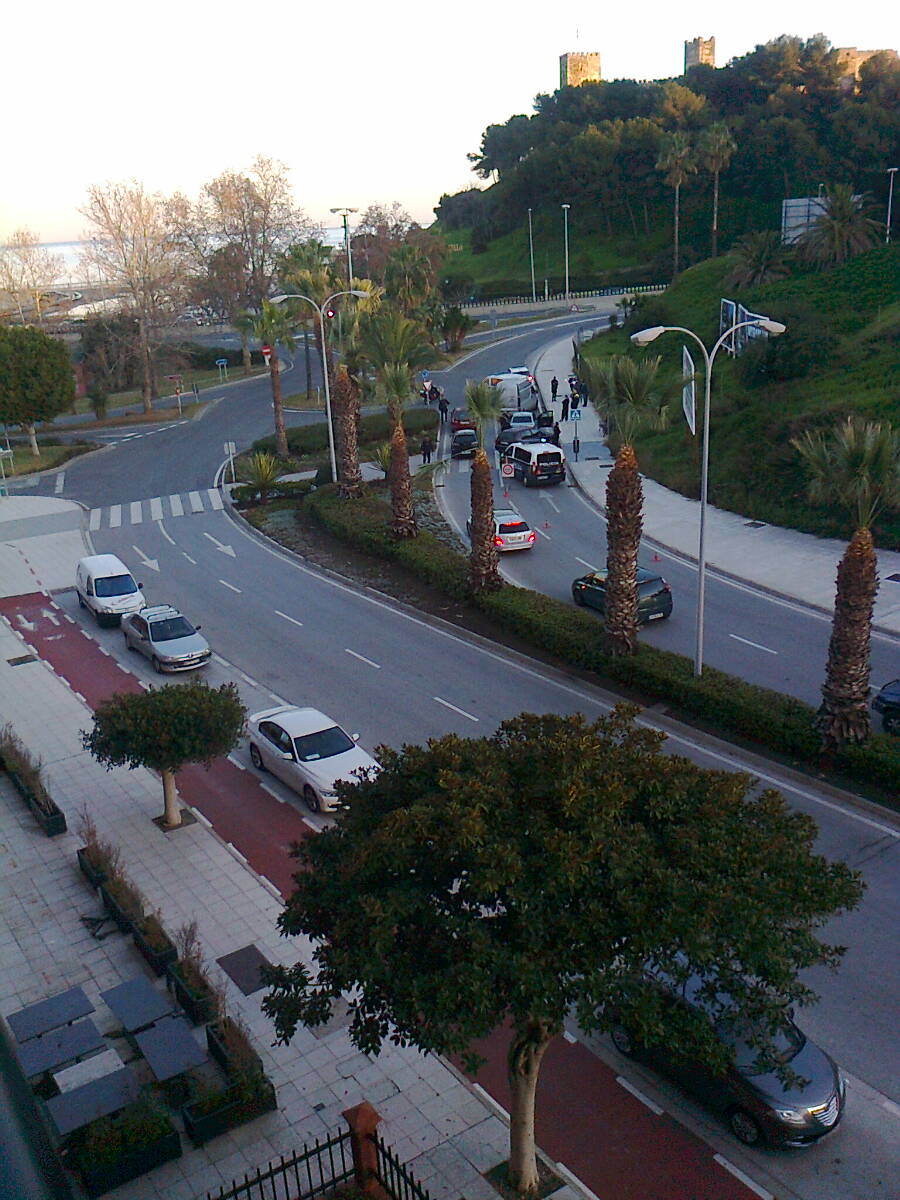 Police checkpoint stopping Arabic looking people outside our terrace.
We saw these routine check-points elsewhere. At large populated locations in Barcelona and Madrid combat-clothed police, sometimes wearing masks, stood with machine guns in hands. OK, Spain was one of the first European nations to be hit by terrorists. They killed 192 people and injured some 2000 by exploding a commuter train in Madrid on March 11, 2004. Spain had followed the United States into illegal, terror wars against Afghanistan and Iraq using the attacks of 9/11 as an excuse. Spanish officials said the train attack was directed by an al-Qaeda-inspired terrorist cell. Three days later the warring José María Aznar government lost the elections. There have been threats by other terrorists since then but no real damage. A couple hundred suspected would-be terrorists have been arrested in the last dozen years.

By contrast, thousands and even millions of Spaniards protest wars and inhumane treatment of refugees from the wars. Specific days for peace are also celebrated. One such march took place the same week we arrived in neighboring Benalmádena, a beach town the same size as Fuengirola, 70,000. 785 primary and secondary students of Jacaranda school, dressed in t-shirts with a peace design they chose—supported by parents, teachers, the mayor and town council—marched from the school to the main square. They read a manifest for peace, sang and danced, and released several peace doves. The town's educational councilor praised the school for its 28th march, "for its values of peace and solidarity."

I fumed at the war-makers some days but Jette pointed to the peace-makers. We relaxed during nearly daily walks through lovely towns. Like 70 million other tourist/vacationers, we marveled at the fabulous art works, the colorful nature, and relished the food, especially the abundant fresh seafood. Spain has 46 million citizens and permanent residents with the world's largest numbers of restaurants and bars per inhabitant. Many Spaniards spend more time and income eating out than most other peoples. The free or cheaply prized tapas with drinks are also an attraction for travelers.

The few refugees, about 6000, however, have no resources to eat out. And the thoroughly corrupt People's Party (PP) government of Mariano Rajoy Brey has declined to take on the 15,000 refugees from Greece and Italy that was agreed upon in 2015 as part of EU's quota allotment.

We spent time on the sandy beaches, naturally, swimming and looking for the fascinating sea shells that seemed designed for beauty and utility. Many are sturdy and large enough to hold ceviche I make. I even caught a sea- bass casting from the beach, which is a favorite pastime and source of food for many Spaniards.

In Fuengirola, there are three archeological sites. (3) We saw where Romans in the Iron Age salted fish for consumption and export. In the same area close to the sea they made pottery and took their famous baths in tubs with cold, lukewarm, and hot temperatures. Wealthier bathers were massaged by their slaves. There were areas for concerts, a library and gardens. The thermal baths were owned by the state, which charged a small fee; children were admitted free. There were periods of unisex nudity but prudish Catholics outlawed this in the 3rd century AD by banning women from the baths.

Across the street from our apartment, on one side of Sohail Castle remains of Phoenician and Roman settlements from between 3000 and 2000 years ago have been uncovered. Many fossils were found but the dig stops where a manor stands complete with swimming pool and carports surrounded by a high wall and barbed wire. Why would this be here at an archeological park?
I asked several workers and pedestrians in the area about this. Most of them knew it had to do with Franco's time. One told me, "The rich are the power not the law". But unlike in most of the centuries of regular corruption—from the early kings, through colonization, the Franco period, and up to recently—there is action against it.

Spain has a long history of corruption—defined as managing public resources for private interests, and includes bribery. The English expression "Spanish practices" stems from a long history of "Spanish duplicity". Most dishonest politicians, civil servants, and public and private functionaries get away with it. But since the economic crises with a 25% loss of employment, many people are acting. Activist protestors have been effective, and a former civil servant whistle-blower, Ana Garrido has revealed much corruption, which the mass media is finally covering.

Since 2010 there have been regular revelations of official corruption by top politicians especially of the People's Party, including the president of Madrid region and ministers. The PSOE (Spanish Socialist Workers Party), and many businessmen have also been caught in corruption cases: kickbacks, bribes, tax fraud, public funding for work not performed or overpriced. Just between mid-2015 and the end of 2016, 1,700 people faced prosecution for corruption. Although 1000 town councils of the 8,100 in Spain have initiated corruption investigations, only 20 persons have been sentenced to prison. Despite transparency campaigns and promises, fiscal laxity remains endemic. Some investigators, for instance, are paid as much as 100,000 Euros annually, enough to look the other way.

Bankia, a major bank, is one of many cases unfolding. Twenty seven leading bankers and politicians are on trial for various acts of corruption and bribery. Another case, Gürtel network, involves 200 businessmen and public officials, including three former PP treasurers, charged with such crimes. The Prime Minister is called to testify in this case. The key man in the billion dollar scandal is known as Don Vito from the "Godfather"—construction capitalist Francisco Correa.

Then there is the infamous case of the king's brother-in-law, Inaki Urdangarin. He was sentenced to six years and three months in prison while we were there. He was found guilty of masterminding a scheme for the Nóos Institute to obtain public contracts without bidding, in which no work was performed or done so at overpriced costs. He is also guilty of diverting public funds for personal profit. His wife, Cristina de Borbón, the former King Juan Carlos' daughter, was fined 265,088 Euros for tax fraud complicity. Somehow, she was not found guilty of any crimes. This is the first time any member of the royal family has been so judged. King Juan Carlos stepped down in 2014 when the case began. His son Felipe took his place. Urdangarin, a former handball star player, appealed the sentence and is free on bail in Switzerland.

Due to these exposures the PP has ruled without a majority vote for the past two years. Its coalition government garnered only 33% in the 2016 election; 28% in 2015, compared with 44% in 2011. But the PSOE is not as favored as it once was either, winning only 22.6% in the 2016 elections compared with 44% in 2008. This has caused the national government, and many regional ones, to attempt to appease the people by ascribing to transparency. City councils are accepting complaints of all sorts and investigating them. Results of the investigations are publicized. When I found out about this, I decided to look into the private mansion background and make a complaint.

Dictator Francisco Franco gave José Antonio Girón de Velasco permission to build this mansion (Villa Valsurbio). Girón had faithfully served Franco in his illegal and brutal war against the democratically elected Republican government. He served as an officer in the 1936-9 civil war, and Franco made him his Minister of Labor, 1941-57.

Girón was a fanatic fascist. After moving into the mansion at the Sohail Castle, he started a tourist business and became known as "el león [lion] de Fuengirola". Girón participated in the attempted coup of the democratic government in 1981. It failed, in part, because King Juan Carlos opposed it.
In my research, I found that Fuengirola had undergone an environmental impact study in 2008. The investigators had, in fact, pointed out that Villa Valsurbio is not in the cultural interests with the park or the archeological diggings. The study reports that "the rest of the surroundings [the private property] should be free space used by the public and the green zone." I tried to find the investigators but they no longer held jobs or telephone numbers that they had in 2008. Nor could I find any response to the study by local authorities.
Girón died in 1995 and his family sold the house to another rich and politically connected man from out of town. I did not discover details of the current owner but I went to town hall to ask Mayor Ana Mula why the public park and archeological site is partially occupied by private property. I pointed out in my petition that her predecessor, Esperanza Oña, also of PP, had posted a plaque at the entrance of the park in 2002 dedicating it to the public in the name of a virgin. (I am uncertain if the virgin was meant to be the mother of Jesus Christ or another, because in the Spanish-dominated countries there are many virgins, officially speaking.)

When I presented my complaint to city hall workers heads rose from computers. I filled out the transparency complaint form. I was assured that it would be answered. To date, I have no word from the mayor.
From our base in Fuengirola, we took day trips to the nearby colorful mountain town Mijas, the majestic Granada, Picasso's Málaga and Antequera.

UNESCO has awarded Spain with 45 World Heritage Sites, the third highest number after Italy (51) and China (50). As it turned out we saw four of them: Granada's Alhambra palace and Alcazaba fortress, Antequera's dolmens, Atapuerca Mountains with its archeological sites and the unique Vizcaya Bridge in Bilbao.

Arab rulers held their capital seat in Granada during their reign in Andalusia. While the gardens and water ways are impressive and useful, the over-whelming buildings basically turn me off, as do most grandiose structures (pyramids, slaughter-house coliseums, gigantic city halls, manors, castles). They reek of bloody power hungry elitists who exploit workers and force slaves to build their symbols of domination. Private property is, in reality, the root of most of our man-made evils.

"Much of our present difficulty has been driven by the way humans have come to relate to space, objects and consistent imaginings we have about the world: we have come to think of these things as property. There is no natural reason for this. Property is purely a construct of the imagination and has no basis in the physical or living order," wrote biologist and psychologist James Keye. http://dissidentvoice.org/2010/09/the-meaning-of-property/

In contrast, I was quite taken by the dolmen gravesites in Antequera, or "Antikaria"—Old City in the language of Romans who settled in the area at the end of the early Iron Age. It was so named because of the ancient richness of the dolmens.

Three dolmens were built between 7000 and 5000 years ago for burials of leading citizen. More cadavers were also buried over many centuries. The structures are skillfully built for longevity. Much of the original stones remain today, both the interior structure as well as the mounds that cover them. The tombs, however, are not pompous, and everyone has used them to remember the dead and for collective religious ceremonies, even today. These unique monoliths were the first forms of monumental stone architecture in European pre-history.
The most fascinating is the Menga dolmen. It is a particular geographic landmark aligned with La Peña de los Enamorados (Lovers' Rock). The long entrance faces this natural hilly formation as if to identify with it, to honor the apparent "sleeping face", and as such it does not directly face the rising sun as was tradition for nearly all dolmen-makers.
We can't know what the early Neolithic farmers and sheepherders called the hill, but honor it they did by aligning the five-chamber enclosure to face it. Menga's construction is considered as significant as Stonehenge. Modern craftsmen are impressed by the 27.5-meter long, 3.5-meter high, 6-meter wide tomb with a 19.5-meter deep well where tools used to build it were found.

In medieval times, this 874-meter high hill was known as "The Indian of Antequera". It was later given the name "Lovers Rock" because, as legend has it, a Christian woman and a Moor man fell in love. Multi-cultural love was forbidden so they fled to the hill. The woman's father sent soldiers to capture them. As the soldiers approached, the loving pair threw themselves to their death.

2. Art, War and Peace

I'm no art critic or connoisseur but "I know what I like". For instance, cutting a hole in a canvas and having it placed in the gaudy Guggenheim Museum in Bilbao is Yoko Ono's idea of "art" while I view it as a kindergarten child's play. But what can you expect from such as Solomon Guggenheim, born into wealth and owner of the Alaskan Yukon Gold Company. Today, the company's in situ value in gold, silver, zinc, lead and copper is around $700 million. http://www.24hgold.com/english/company-gold-silver-yukon-gold-corporation.aspx?id=16918558E6680&market=YGDC.OB

This gigantic museum's titanium-clad, steel architecture is built to make commoners feel small, so I think although a psychologist would probably categorize me as an insecure-paranoid. Being at Guggenheim's monster made me feel anger down to my gonads, anger at what the Guggenheims and Rothschilds' (Solomon married into this wealthy banking family) economic system does against us.

The Guggenheim Museum, however, has some art worthy of my praise, such as Basque nationalist Eduardo Chillida and Robert Motherwell's Eligies for the Spanish Republic.

Speaking of gaudy that was the term that came to mind when I first saw Cornet Gaudi's works in Barcelona, especially the "Sagrada Family" church—which the oppressive and richest institution in the world, the Catholic Church, begs the public to pay for.

Art can inspire my sense of beauty and creativity, as it must for all, but especially when it speaks for justice, for what is good for humanity, for all life forms, its ability to teach us purpose. I have in mind artists such as Picasso, his friends Miró, Henri Matisse, George Braque; and Chillida, Goya (Disasters of War), Diego Rivera, Van Gogh, Natalie Goncharova, and others we saw in these marvelous Spanish museums. We spent several days in museums in Malaga, Barcelona and Madrid.

In Picasso's Malaga home-museum and two others there devoted to his works (plus a library about him), we saw how his middle-class family lived, and many of young Picasso's etchings, paintings, ceramics, and learned the significance of doves for him and his art professor-painter father, José Ruiz Blasco.

When Pablo was just 11, he painted doves to please his father whose eyesight was failing. For some reason doves live in droves in Malaga. Besides the natural pleasure of viewing them, the Picasso's saw harmony in their behavior, aggression as well.

Picasso left Spain to live in Paris when 23, in 1904. He never lived in Spain again, although he visited before the Spanish Civil War started. From France, Picasso supported the Republic. His first political statement concerned the fascists "plunging Spain into an ocean of misery and death."

When Franco organized the takeover of the Basque Country, he sought air raids from Germany and Italy. They were glad to assist—good training for terror bombings in the upcoming world war. The Guernica massacre took place on April 26, 1937. Three-fourths of the village was destroyed during three hours of constant bombings (30 tons, 6000 bombs). Most of the rest of the city was damaged except the wealthy areas, the town assembly hall, the revered Gernika Tree, and the two weapons factories, which Franco would use when his troops came three days later.

The Spanish Republic commissioned Picasso (without pay) to make what became the most famous of paintings, the 8-meter long Guernica, which was displayed first at the World Fair in Paris, July 1937. The New York Museum of Modern Art kept it safe throughout the war and turned it over to the Reina Sofía Museum in Madrid, in 1981.

We stood before "Guernica" alongside people from around the world. My emotions were strong and mixed: joy for the symbolism of solidarity it represents, and tears of sorrow for the tragedy and excruciating pain people felt, the wanton murder simply for the boundlessly inane desire for power and material wealth. And it continues. Today the "democratic" states commit their terror bombings.

Picasso joined the French Communist Party, in 1944, right after Paris had been liberated from the Nazis. "I have found there all whom I respect most, the greatest thinkers, the greatest poets and all the faces of the resistance fighters." But Picasso was not cowed by atrocities regardless of where they come from and criticized Stalin, yet he remained a CP member until his death.

A leading communist, poet-author, Luis Aragon, asked Picasso to contribute a painting for a poster to support the World Conference for Peace to be held in Paris, April 1949. Aragon thought of using a dove as a symbol for justice, a bearer of messages for peace. Matisse had recently given his friend a few Milanese pigeons, and Picasso made a lithograph of one. Aragon came across it when browsing through sketches, so wrote one of Pablo's lovers, artist Francoise Gilot, in her 1964 book, "Life with Picasso." She is still alive at age 95, and the pigeon is still the world's peace dove.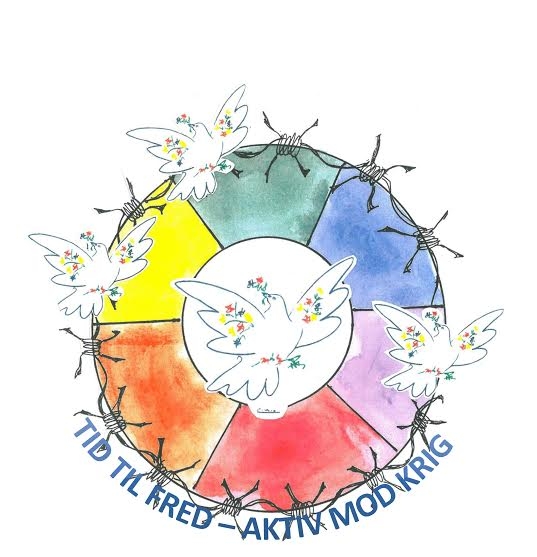 Jettes collage with Picasso's peace dove for the peace organization in Denmark, "Time for Peace" (Tid til Fred). Coordinators paid an unsolicited copyright fee to the Danish copyright association, which I am certain Picasso would have opposed as ludicrous and an insult to his engagement for peace.
Joan Miró's "Mayo 1968" located at Barcelona's Fundació de Miró,is one of my favorites. He began it at 75 and finished five years later, 1973. The colors and energy reflect that of millions of students and workers (2/3 of the work force) on wildcat strike throughout much of France. They brought the economy to a halt. (Much of Europe was also in uproar, and we students in the US were protesting for freedoms and against the war in Southeast Asia. In Mexico City, the government killed hundreds of protestors.) After a month of anti-capitalist, anti-war, near revolutionary struggle, the French Communist Party and union leaders under its influence called on students and workers to accept a bourgeois government compromise so that capitalism could continue.

The great masters continued painting until their deaths, Miró at 90, in 1983; Picasso at 92 in 1973. When 90, Picasso painted and drew 200 works.

3. Almería and Podemos

Jette and I spent a few days in Almería on our way to Barcelona. We immensely enjoyed some of this province's natural beauty, such as, Siren Reef whose hooded seals' cries in the night are said to have caused sailors to talk of mermaids. The nearby Cabo de Gata natural park is a UNESCO Biosphere Reserve. At the shoreline Europe's only truly hot desert merges with crystal clear waters. And the ochre-hued desert with volcanic rock formations offer ideal location sets for many Western adventure movies.

As at Granada and Málaga, Almería has a hillside Alcazaba. It was built during the 10th century under the reign of Córdaba Caliphate Abd al-Rahman III. The Muslim rich and powerful enjoyed private gardens and baths just like the Romans who also ruled the area earlier.

When Spanish kings' armies re-conquered all of Spain, they had towering churches built on or beside Muslim temples. But some of the churches are less pompous. We visited one to hear music students sing several classic composers' works. Our spirits tingling, we then relished the best of tapas for no more than the price of a beer, a glass of wine or even a soda. Almería may be the last area in Spain where tapas are gratis with one's drink.

Almería has Spain's most intact underground shelter open to the public. This refuge has one of the largest of tunnels, 4.5 kilometer-long. It could hold 35,000 of the 50,000 inhabitants (10,000 had fled from bombings of Malaga). There were several entrances from churches, the hospital and elsewhere. The nine-meter deep tunnels are divided into several galleries.
A make-shift clinic for emergency surgery was made. There was also a "playground" for children, and a kitchen. Franco, Hitler and Mussolini bombed the town 52 different times from the air and sea. On May 31, 1937, German warships left 40 dead and 150 injured. Two-hundred buildings were destroyed. The Refuge of Almería is a living historical memory of war's atrocities for all of Spain, and foreign visitors too.

Pepe Crespo and I had met through the internet and collaborated on some of Noam Chomsky writings. Pepe translated an essay I wrote on Chomsky's work. He is a satirist whose website contains a wide range of political commentary and humor. https://elchiroilustrado.blogspot.dk/
Pepe's father, Pepe Senior, was a champion underwater spear fisherman. Like millions of Spaniards he is a tapa epicure. One of the family's favorite tapas locations is Entremares in Almería where Lola, Pepe's wife, has one of her photos adorning one whole wall. Pepe Senior's favorite tapas bar-restaurant is La Bodega del Jamón in Aguadulce where we ate luscious tapas with prawns, cod, mackerel, cuttlefish even tuna and marlin, helped down with delicious wines of all colors and at reasonable workers prices. All the while we conversed about Spain's greatest writer, Cervantes, and his "Don Quijote de la Mancha". A few months before Spain and UNESCO celebrated Cervantes, who died 400 years ago. The event caused Pepe Senior to re-read the book for the sixth time.

We exchanged memories and views of our readings of this great pearl in world literature, considered the first modern novel. In that period of Spain, the 16-17th centuries, the nation was a mixture of royalists and elitist-invaders of others' worlds, fanatic Catholics who invented the inquisition to torture "heretics" for exercising free speech or arguing for women's rights. The nobility enslaved others to do their work for them. There were also dreamy-eyed adventurers and mystics who might bray at windmills: And there were people of other ethnicities longing for liberation and sovereignty—people indigenous to Galicia, Andalusia, Basque land, Catalan. Their desire for liberation continues today.

When I lived in Cuba (1988-96), working for Cuban media, the "Morning Star" and free lancing, the revolutionary icon Fidel Castro was seen as a Don Quixote—a knight for the people who wielded his sword against the goliath, and actually won. The dreamer who could be effective enough to win and establish a system oriented to improve life for the masses, which, in fact, it did in many important ways.

Miguel de Cervantes was actually born to a family from Galicia. Before he became a writer, he was a soldier. He joined Admiral Don Juan d' Austria's "Holly Alliance" fleet in a huge battle against the Ottoman Empire, in 1571. Cervantes was seriously wounded in the chest and one hand was maimed. Nevertheless, he continued serving Pope Pius V and the "most Catholic of kings", Philip II of Spain. Captured and enslaved by Turks, in 1575, he was ransomed and freed in 1580. Cervantes later began writing poems and novels. The first part of "Don Quixote" was finished in 1605.

Don Quixote is a fantasy-inspired would-be knight, who battles at windmills and sees agave purity in the ordinary peasant Dulcinea. His idealistic world merges with his employed squire Sancho Panza's realism. There could be something in this story that mirrors contemporary Spanish Establishment attitudes of "real politics", and Podemos whose uproar roots stem from Los indignados (The Outraged). The movement started with anti-austerity actions, May 15, 2011. Pepe introduced me to Podemos in 2014. He is a member and his family votes for them too.
Los indignados took their inspiration from the Arab Spring uprising and a pamphlet written by a former resistance fighter, 93-year old Frenchman Stéphane Hessel. His booklet, "Time for Outrage" is a call to peaceful civil uprising (including civil disobedience) against finance capitalism and the economic crises it causes. The booklet also inspired the Occupy Wall Street movement.

Podemos had surprisingly won five seats to the European Parliament in January 2014, soon after forming. In less than two years, Podemos grew to over 250,000 members when it participated in its first national elections, December 2015, on an anti-austerity social reformist platform. It nearly doubled its membership by 2017. Its leaders are mainly young academics, principally Pablo Iglesias and Inigo Errejon. They were left socialists critical of Communist parties' doctrine. Podemos stood for a republic and withdrawal from NATO, but the issue of NATO has faded into the background.

Many Spaniards, who normally vote for one of the two leading parties, center-rightist PP and supposedly social democratic PSOE, were angry with their corruption and support for finance capitalism. Spain has the most unequal economy in Europe: six million workers without jobs, 50% unemployed youth; 14.3% in poverty placing it number 16 of the world's 18 most developed economies. Yet the government cut 37% of its resources destined for the social network.

Podemos received the votes of many of those affected, in all over 5.5 million, 20.7% of all voters. The PP lost its absolute majority down 64 seats from 186.There are 350 seats in the House of Deputies, which has more significant power than the senate. The PSOE lost 20 seats from 90.
Because there was no majority to govern, another election was held in June 2016. Podemos united with the more traditional left party, United Left (Izqueirda Unida). Instead of increasing votes, the United Podemos coalition lost a combined 3.3% of votes yet held onto the same amount of seats, 71. The PSOE lost five seats. Surprisingly the PP gained 14 seats, garnering 33% of the vote. So now, the PP continues to rule without a majority. Most Spaniards do not want yet another election.

Podemos engaged in an open inter-party debate. Three lines were formed. When the party congress met to elect councilors and vote for leadership, the Pablo Iglesias-led group won 37 seats. The second group, that led by Inigo Errejon, took 23, and the more radical anti-capitalists led by Andalusian Miguel Urban won only two seats.

Secretary General Iglesias won 89% of the vote to continue as the leader, and immediately set course in one reformist direction. He replaced Errejon with Irene Montero as councilor leader.

Podemos is of international interest among leftists of all tendencies. But some "real leftists" are disturbed with Podemos' tendency to skirt important issues just as Bernie Sanders is criticized for not opposing US wars and NATO. Reneging on working class programs by left-wing parties is epidemic in the world. Not being able to count on what we are told by political leaders of all stripes is an international problem, and one I have no idea how to correct.

I refer to a savvy analyst, Barcelona academic Marta Lobato. She says Podemos lost votes in the election because the leadership went off course from its origins.

"Podemos was formed in 2014 as a political channel for the spontaneous anti-austerity mass movement of Los indignados…People expressed their outrage at spending cuts, the rise of university fees, the privatization of education and health, increasing concentration of power in the hands of a few, the impoverishment of the working classes, and the 2012 labor reforms that made work more precarious - all issues caused by prolonged neoliberal rule.
"Podemos took up these demands, and went further. They defended Catalans' right to hold an independence referendum. They wanted to be more than a political party. They wanted a revolution. But they underestimated the politics of fear in a country where ideological battles between right and left were tinted in blood until not so long ago, and a lethargic democracy emerged to bring about social peace and economic development.
"PP and PSOE represented stability in a moment marred by the uncertainties of Brexit, the Scottish independence question and Catalonia's separatism. Podemos tried to brand themselves as social democrats. They did not convince large sectors of the population who perceived them as 'revolutionary communists', and upset many of their own followers, who saw this diluted stance as a betrayal of the original mandate."
"Surely the ghosts of the civil war and Franco's dictatorship haunt senior citizens more than the youth. There is a core of older left voters that stuck to PSOE and saw Podemos with suspicion. Their views are shaped by the stability of the post-Franco bipolar order, where PSOE represents the left and PP the right. Podemos threatens this orderly arrangement." https://www.opendemocracy.net/can-europe-make-it/marta-lobato/back-to-basics-why-podemos-lost-support-in-last-spanish-election

Lobato's analysis makes sense. Pablo Iglesias sought and gained greater concentration of power at the expense of social movements inclusiveness and horizontal decision-making.

"I have one suggestion for Podemos: go back to basics!"

4. Barcelona, Catalonia sovereignty and civil war

Jette and I took the 12-hour train trip to Barcelona. Happily we swayed over beautiful rugged landscapes, seeing rows and rows of windmills, sparkling sun panels, boundless fruit trees, grazing sheep, kilometer after kilometer of olive trees, enough olives it seemed for the whole world.

In Catalonia's capital Barcelona we had the first of three airbnb private apartment experiences on this sojourn. For the next five weeks, we traveled a lot, sleeping in several beds in pensions, inns, private apartments, leaving behind one or more pieces of clothing. We had to use several taxis from airports, train and bus stations because we were overloaded with bags, all too much to carry. Nevertheless, we were forced to huff and puff up 92 stairs to the fourth floor apartment as the old building did not have an elevator.

Barcelona city population is 1.6 million; the greater urban area is 4.7 million. Like all cosmopolitan cities, one can find most everything for the rich, for tourists and workers. One can buy expensive arts works made many centuries ago and taken from other countries. There are cozy bars with varying prices for all but the poor. I asked a bartender who wore a t-shirt from the terrorist state of Qatar why he chose to do so.

"Well, Qatar is everywhere, and Barcelona is for those who pay."

We also met people who sported symbols of "smash the state" and are for independence and peace.

Barcelona is a city of motor scooters, of highly armed police, of soccer fans, and some of the world's greatest art and music; a city of the best foods, and the great market plaza "Boqueria", located on one of the world's most exciting streets, "Rambla" with a tree-lined pedestrian mall.

I have earlier mentioned museums of Picasso and Miro works. Among the many others is the Museum of Contemporary Art where we saw a large exhibition of working class art painted in various styles. "Hard Gelatin" depicted workers in blue overalls and white collars, from the dismantling of workers' movements to neo-liberalism.

I recommend the film "Biutiful" for a view of Barcelona from the "underground" of immigrants without papers. It is written and directed by the Mexican film-maker Alejandro González Iñárritu, starring Spaniard Javier Bardem. Both stand on the side of the underdog, generally. http://www.imdb.com/title/tt1164999/

In our travels throughout Spain, we were not once cheated, not even overcharged by any taxi chauffeur. People were glad to help us with directions and information. It helped that I speak Spanish, and am empathetic with people who feel oppressed as do many Catalonians and Basques.

We witnessed a good deal of conversation, graffiti, propaganda, media coverage and political debate concerning rights to nationhood/sovereignty. The Supreme Court found three leaders of the Generalitat of Catalonia (the semi-autonomous government) guilty of disobeying the Spanish constitution of 1978, which allows partial autonomy for regions and nationalities but insists on the "indissoluble unity of the Spanish nation," prohibiting separation from the "fatherland".

Catalonia's governor, Arthur Mas, and vice-leaders Irene Rigau and Joanna Ortega were sentenced to large fines and prohibited from holding public office for up to two years. The three had arranged a non-binding referendum held November 9, 2014. Only about 37% of voters went to the polls, 80% voted yes for independent statehood; 10% voted no.

The three leaders were backed by c. 40,000 demonstrators when on trial. After their conviction, the royalist PP party led an anti-referendum demonstration of c. 15,000 people.

The current government is not to be deterred and has called for a binding referendum on sovereignty for September 2017. The majority polled wants such a referendum, but the vote is expected to be close. The Supreme Court warned current Catalonia leaders Carles Puigclemont and Carme Forcadella that they will face contempt of court charges if they follow through.

Just what are the criteria for a nation, for sovereignty? According to political science definitions, a nation consists of a body of people with common characteristics-mores, living in a particular territory, sharing a common language, and perhaps a common ethnic identity.

Popes/caliphs, kings/warlords, presidents and state ministers, fascists, and economic elitists reject that definition. They insist that a nation is territory that they wish to rule when they have enough power to do so. With the exception of the short-lived Second Spanish Republic (1931-9), Spain has been ruled as a centralized state since the 16th century. But several ethnic groups or peoples sharing a common language, those in Andalusia, Galicia, Basque Country and Catalonia seek or have sought their own nation. The latter three were granted self-government under Statutes of Autonomy signed between 1932 and 1936 and partially implemented. This came to a halt when the fascists won the war.

After Francisco Franco died, November 20, 1975, a period of "transition to democracy" resulted with the current constitution. It calls for a decentralized unitary state, a balance between federalism and centralism. The nation's capital is still Madrid and Spain is still a monarchy: The Kingdom of Spain is its official name. The state is, however, now divided into 17 "autonomous communities", each with one or more provinces. These 50 provinces are either regionally or nationality based. Nationality based territories where people have the greatest will to separate over centuries are first and foremost the northern Basque Country (three provinces with 2.2 million people) and the northeastern Catalonia (four provinces with 7.5 million people). Their unique languages are now well integrated throughout most of regional institutions.

Then there is Galicia with four provinces and 2.8 million people; and Andalusia with nine provinces and 8.3 million people. These two autonomous communities are not nearly as anxious for sovereignty as are half or more of the people in Basque Country and Catalonia.

Today, Spaniards long for an end to passionate conflicts, as well as an end to seemly eternal political and economic corruption.

Spaniards had fought with great passion and devastating losses during the Second Republic for and against centralism, ethnic sovereignty, worker-peasant revolution or for monarchy, capitalism and church. (The First Spanish Republic didn't accomplish much in its short life, February 1873 to December 1874).

General Primo de Rivera's ruled Spain as a military dictatorship (1923-30). King Alfonso XIII approved his rule but he absolved when it fell in 1930, and elections were held.

The Second Republic was established in June 1931 after democratically held municipal and general elections, in which the overwhelming majority rejected a monarchy for a republic form of government. (4)

There were many political parties and contradictory approaches to rule during the Second Republic. Intolerant to notions of democracy and collectivism, the fascists launched a civil war in July 1936. The fascists viewed the conflict as Christian Civilization vs. godless atheism, communism and anarchy. Republicans viewed the conflict as one of freedom vs. tyranny. Most Catalonians supported the Republic, as did Basques since the Republic government promised them self-government, albeit they were mainly a conservative Catholic people.

Catalonia and Madrid were the Republics last holdouts. They fought bravely to the end well knowing they had no chance against Europe's most modern military. Franco's forces attacked Catalonia for weeks on end until they took Barcelona on January 21, 1939. Madrid was still holding out but England and France couldn't wait to butter up to Franco. On February 27, they recognized his government, five weeks before the Republic fell when the fascists occupied Madrid, March 28.

Of the 25 million-population then around one million people fought for the Republic and another million fought for the fascists, the aristocracy and the official Catholic Church. General Franco had mercenaries from Morocco, plus the German and Italian governments and military on his side. (5)

The Republic had the aid of Russia and Mexico and 30-40,000 volunteers from 52 countries organized in the Communist-led International Brigade; plus a few thousand anti-Stalinist left socialists, Trotskyists and anarchists in POUM (Unified Workers Marxist Party) and the anarcho-sindicalist CNT union. 15,000 volunteers died in the war. (6)

The numbers of people killed during the war are contested but at least half-a-million were killed on both sides. General estimates are that c. 110,000 Republic forces died in combat, and about 90,000 nationalist-fascists. The so-called "red terror" executions of nationalist soldiers and civilians are estimated at 30,000 to 38,000.

"Red terror" also took the lives of some Republicans critical of the Communist Party, which fought for victory against fascism but not for socialism. Russia's secret police at the time, NKVD, and Russian and Spanish Communist soldiers killed hundreds of Republican anarchists and Trotskyist fighters, because they fought for an anti-capitalist revolution.

Anarchists were the strongest leftist force in Catalonia. Their struggles benefited workers. They won an 8-hour work day in 1919. One of POUM's key leaders, Andres Nin, was among POUM fighters killed by Communists.
There is general agreement that fascists were by far the most brutal and indiscriminate in their violence. Franco's "white terror" eliminated between 150,000 and 200,000 people through executions and "cleansings". There were massive massacres of mainly civilians when the fascists took towns—22,000 in Basque towns, 10,000 in Cordoba, 8,000 in Seville, 6-12,000 in Badajz, 7,000 in Malaga, 2000 in Granada.

Franco forces were far superior militarily and he reestablished a central-state monarchy upon declaring victory April 1, 1939.

After the end of the war, the new government continued harsh reprisals. Thousands of Republicans were imprisoned and perhaps as many as 200,000 were executed. Many more thousands died during forced labor: building railways, drying out swamps, and digging canals. Perhaps 35,000 died in concentration camps.

Hundreds of thousands of Republicans fled abroad; at least half-a-million to France. Refugees were confined in internment camps of the French Third Republic. Some who fled to France, even before the end of the war, engaged in guerrilla warfare, which continued following the fascist victory. The Spanish Maquis exiled in France fought Franco's regime until the early 1960s. They carried out sabotage, robberies to help fund guerrilla activity, occupied the Spanish Embassy in France and assassinated Francoists. They also fought against Nazi Germany and the French Vichy regime during the Second World War.

The term "Maquis" is French and refers to scrub-bush country. These Spanish and French peasants who fought guerrilla style saw themselves as "bush hardened". Their numbers ranged from 20,000 to 150,000 during WWII. They sought an anarchistic or pure communist society unlike Communist parties. Reporter and novelist Martha Gellhorn wrote of them in her book, "The Undefeated":

"During the German occupation of France, the Spanish Maquis engineered more than four hundred railway sabotages, destroyed fifty-eight locomotives, dynamited thirty-five railway bridges, cut one hundred and fifty telephone lines, attacked twenty factories, destroying some factories totally, and sabotaged fifteen coal mines. They took several thousand German prisoners and - most miraculous considering their arms - they captured three tanks. In the south-west part of France where no Allied armies have ever fought, they liberated more than seventeen towns."

I close the subject of the Spanish Civil War with excerpts from "Homage to Catalonia" (pages 239-41) by George Orwell, who was wounded while fighting with POUM.

"The war was actually won for Franco by the Germans and Italians…The outcome of the Spanish war was settled in London, Paris, Rome, Berlin…"
"The common people knew in their bones that the Republic was their friend and Franco was their enemy. They knew that they were in the right, because they were fighting for something which the world owed them and was able to give them."

"In practice, however, one cannot be neutral, and there is hardly such a thing as a war in which it makes no difference who wins…In essence it was a class war. If it had been won, the cause of the common people everywhere would have been strengthened. It was lost, and the dividend-drawers all over the world rubbed their hands. That was the real issue; all else was froth on its surface."

Of course, the same holds true today. Until enough workers learn what significance it has to be part of a class, to have class consciousness, capitalists around the world will bring on wars for profits, such as we see in the Middle East today, and increase inequality among peoples and classes.
In each of my three trips to Spain some workers and students have protested against capitalist-government cutbacks of workers gains, and/or for rights to sovereignty, and I have joined in some of them. In 2010, I stayed with the multi-language website Tlaxcala founder, Manuel Talens, in Valencia. We joined the 24-hour general strike. http://www.tlaxcala-int.org/article.asp?reference=1567. Talens (1948-2015) was a medical doctor before taking on writing, editing and translating for www.rebelion.org and Tlaxcala.
While in Barcelona this time, Jette and I joined the student-led general strike, which was organized to protect higher education. The central government's "reform" will eliminate thousands of teachers and professors, and cut-out hundreds of courses. This "reform" is part of big capital's globalization approach to higher education: Socrates be damned; Hallelujah to profit-making skills.

I met a professor-writer friend on the march through Barcelona's center, Salvador López Arnal. He is an editor at rebelion and "El Viejo Topo" (The Old Mole), an excellent political-literary magazine. Salvador is also active in the struggle for Catalonia's independence. For those who can read Spanish, here is his interview with me about "Cuba at Sea": http://ronridenour.com/es/art/2010/0012--rr.htm
5. Basque Country: Bilbao, San Sebastian, Guernica

We flew to Bilbao, the largest city in Basque Country, 300,000 population; one million in urban area. It is also the richest city, having once provided England with two-thirds its iron ore and possessing 20% of the world's steel.
Bilbao grew rapidly in the industrial age. The 160-meter long, high suspension Vizcaya Bridge is a towering sign of that. Modern public transportation is also a highlight. We were pleasantly surprised by how helpful and understanding train and bus personnel are. On two occasions we were allowed to travel without having tickets.
At Bilbao's Euskal Museum, we saw some of the Basque people's history, including Gernika's (Basque spelling) beginnings 2800 years ago. There was evidence that Basques are descendants of indigenous groups in the Pyrenees and Cantabrian mountains dating back 9000 years ago. They are the oldest permanent residents in Western Europe with the oldest original language (Euskara), which is also the only surviving non-Indo-European language. Basque land covers about 20,700 square kilometers spread over four provinces in Spain (now three) and three in France.

Bilbao has also been the center for nationalism, for Basque independence, for sovereignty. Most political parties have stood for independence regardless of ideology. The opinion of the two Euskal Museum workers we spoke with seems to be typical. "One day we will have our sovereignty again; not just yet but the day will come."

The ETA was in the process of surrendering the last of their arms. I spoke about this with a bartender and two customers, one of whom had been a member. Ana is a small, actually frail person in her 30s. She spent four years clandestine and 30 months imprisoned. She didn't go into details but didn't regret her struggle. She was optimistic that one day "we'll be sovereign". Ana had hope for humanity. Maybe there would be less war with Donald Trump in the White House.

Our jolly bartender, Carlos, was also optimistic. He, too, desired a socialist sovereign state. We conversed while I drank wine and ate delicious fish and shell-fish pintxos, which is Basque for tapas. These Basque Country snacks are spiked (which is what pintxo means) with skewers or tooth picks into a piece of bread. Carlos appreciated our talk so much he invited me to a tall drink of 7-year old Havana Club.

It was in Bilbao that the ETA was founded July 31, 1959 at the Jesuit Deusto University. Students first made propaganda and events aimed at preserving their culture and language with a vision for sovereignty. They were Marxist and third-Worldists, that is, thinking that liberation from oppression and capitalism would come from underdeveloped countries rather than from the West.

Throughout the 1960s and until Franco's death hundreds of thousands of brave Basques went to the streets for independence and support of ETA. Met with repression, ETA evolved into armed struggle. Their first sabotage attempt, in 1961, failed to derail a train filled with Franco supporters. One hundred members were arrested and tortured. ETA's first killing took place in 1968 when a Guardia Civil policeman tried to stop one of their vehicles at a road block.

ETA was at the height of popularity December 20, 1973 when members blew up a government car, killing Prime Minister and Admiral Luis Carrero Blanco, who was also head of the torturous secret service. Franco had 5000 people arrested, many at random, and he unleashed wanton paramilitary violence. This prompted the exiled king, Juan Carlos, to reclaim the throne and propose a shift to constitutional monarchy, which led the way after Franco's death.

ETA stepped up its attacks after Franco's death. In all, they made upwards to 3000 attacks between 1961 and 2011. According to government figures as reported by media, the ETA killed between 829 and 850 people, including 343 civilians. Over 200 civil guardsmen police were killed, 146 national police, 24 local police, about 100 military. Their worst attack occurred on June 19, 1987 when a Barcelona shopping center was bombed killing 21 civilians, injuring 45, including many small children. The bombers claimed they warned the Hipercor firm management 30 minutes before the explosion. Authorities say a search was conducted but nothing was found. Regardless, people could not condone such a terrorist attack.

Government estimates that ETA has had 10,000 members over the years, about half have been arrested and over 3000 imprisoned for years to life. In response to torture, abominable prison conditions, and being so far removed from relatives that visitations are few and far between, prisoners have conducted many hunger strikes, some for months on end.

In 2003, the once popular political party backing ETA, Batasuna, was banned allegedly because it financially aided the "terrorist" group so defined by Spain, the EU and the USA. The party denied the charge. Batasuna, or its kin by another name, had received 15% of the vote in Basque Country in the first general elections, in 1979. Its greatest backing came in 1990 with 18%. But as ETA became more casual in whom they killed, the party also lost backing. It officially disbanded in 2013, in France.

Previous supporters told me that ETA should have stopped their guerrilla warfare when people could see that its dedication and tenacity had played a role in gaining some self-government measures that Basques have enjoyed after Franco. In a popular San Sebastian bar-restaurant, Platjro, are photos of local men and women imprisoned for ETA activities. Waiters and customers spoke of their support for them or, at least, for better conditions for those imprisoned far away from families.
"It took a long time and great internal debate for ETA to finally decide to end the armed struggle," one waiter told me. "The majority wants to end that part of the struggle for our independence, but the government s really opposes peace with ETA, because they can use them as an excuse to make police state measures advantageous for greater state power and less democracy. The governments hope brutality will make Basques stop wishing and struggling for sovereignty. They are wrong."

The ETA unilaterally called a cease-fire on January 10, 2011. It made no attacks since then but two members killed a French policeman three months later (April 9) when he tried to stop a car they drove. This was their last killing.

They tried to turn over their arms but were not allowed to do so without being imprisoned. So a French civil society group, Artisans for Peace, headed by Jean Noel Etcheverry, an ecologist and activist in Demo and Bizi activist organizations, took over as mediator. On April 8, 2017, they handed over to French authorities 118 pistols, rifles and automatic weapons, 2,875 kilograms of explosives, and 25,700 detonating devices and ammunition that had been hidden in eight caches. The locations were passed on by an International Verification Committee, which oversaw the disarming process although it was not recognized by either France or Spain.

The IVC said it "believes that this step constitutes the disarmament of ETA".
Some 172 observers accredited by the ETA mediators oversaw the process, with teams of around 20 standing watch at the eight locations. The Spanish government refused to take part in the process, saying it will not negotiate with terrorists.

It is believed only a couple handfuls of ETA members are on the loose. Around 300 are in Spanish prisons, 84 in France prisons and two elsewhere. Some members live in exile in Latin America.
Despite some terrorist actions—the killing of innocent civilians—ETA played a positive role in changing Spain's political structure. Not only did the assassination of Luis Carrero Blanco, Franco's heir apparent, effectively end the dictatorship and open the way for bourgeois democracy, but the guerrillas ongoing presence influenced other events.
According to William Douglass, a founder and emeritus director of the Center for Basque Studies at University of Nevada, "There wouldn't be a Spain of the autonomies without ETA. During the negotiations [over the post-Franco transition], ETA was the teeth of the barking dog…They turned Spain into a federal republic." https://thebluereview.org/rise-fall-eta/
"The difficult thing to understand is why ETA wasn't satisfied with that, and why it continued fighting long past the point of diminishing practical returns. There were likely many reasons, but one crucial aspect was the ties of an 'unconscious brotherhood,' as professor Joseba Zulaika described it. 'When you have family that was killed or tortured there is a sense of shared suffering, and the power of suffering is something you can't change easily. You feel beholden to a struggle and a way of thinking. You'd rather be wrong than feel a traitor to those you love.' To abandon that ideal, Zulaika said, 'is a difficult conversion. It's a step that requires deep reflection and deep change. You're giving up the passion for sacrifice,'" reported Mark Bieter.
The objective of ETA's guerrilla war for Basque sovereignty is still desired by the majority of this people, albeit their violence is unpopular. A sociological survey conducted in 2004 by the University of Basque Country found that only 2% of those surveyed supported the ETA, although 94% either supported autonomy, independence or federalism (about one-third for each option). Only 2% supported centralism and 2% were undecided.
While in Bilbao, I joined in a picket calling for better prison conditions for the political prisoners, and transfers to prisons closer to their homes. Such actions occur elsewhere as well. On January 14, 2017 many thousands marched through Bilbao calling for the same. AP wrote:

"Tens of thousands of people demonstrated Saturday in the Basque city of Bilbao, calling for some 350 imprisoned members and sympathizers of the armed pro-Basque independence group ETA to be allowed to serve their sentences closer to home in northern Spain.

"In addition to prisoners' families and pro-independence politicians, some relatives of ETA victims took part for the first time in the annual demonstration. Protesters marched through the city holding placards that read 'I Denounce' the Spanish government's policy of dispersing ETA prisoners in 40 prisons across Spain to restrict contacts between them.

"Rosa Rodero, widow of a police sergeant assassinated by the ETA in 1993, marched behind a banner reading 'Basque prisoners to the Basque Country.' "'All people here in the Basque country, we have fought a lot, we had to suffer a lot. The only thing we want is that peace comes and that peace is also given to these people,' she said, referring to the prisoners."

I couldn't find information about how many ETA members have been killed in combat but government torture has been systematic and some have died from it. Torture and even some outright murders have been exposed. At least 27 non-combat murders, with 26 injured took place between 1983 and 1987. The Felipe Gonzales-led PSOE government created and financed through the Interior Ministry a mercenary death squad called GAL (Grupos Anti-Terroristas de Liberación). Policemen and government officials directly aided Gal murders in this self-styled "dirty war". It was so blatant that trials were held and some assassins imprisoned.

The government, though, had the audacity to present one police torturer, Captain José María de Las Cuevas Carretero, as its judicial representative, in 2001, to the United Nations Committee for the Prevention of Torture. (7)

No doubt, Basques want an end to the torture, to the violence on both sides, an end to ETA. "People are hateful of either the ETA or the Spanish governments or both," the San Sebastian waiter told me. "We are tired and we are at a crossroads. We must use dialogue and find political means rather than armed ones now. But we will continue until we get our sovereignty regardless! Then, we can continue our cause for justice, for socialism."

Sixteen thousand people live in Gernika today. They neither wish to forget their origins nor how the high and mighty have brutally attempted to make them heel. They, too, want sovereignty although perhaps not socialism.

We rode with a cozy train to Gernika. Basques respect their hygiene and general environment. We saw how houses and garden plots integrate holistically with green grass, clear streams and rivers, rolling hills dotted with grazing sheep, goats and an occasional burro. Basque cities and towns, gardens and fields are well-maintained. Market places, eating and drinking establishments are clean and attractive. Cities are brightened with violet flowers and Garibaldi Tulip trees.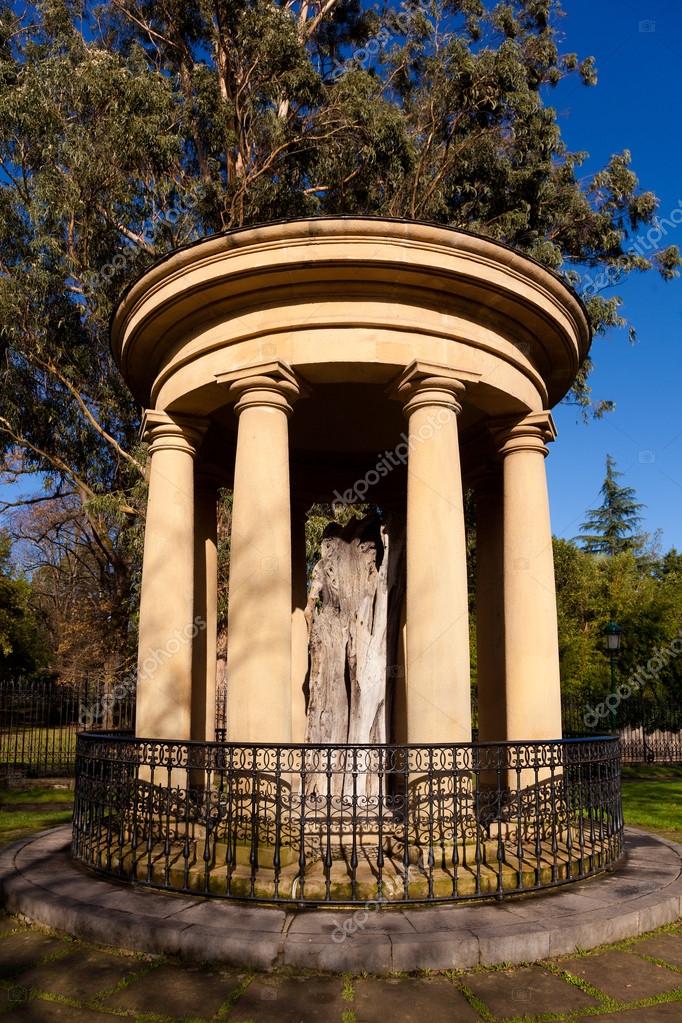 Gernika Oak Tree, symbol of Basque peoples history and sovereignty
Gernika felt reposeful, pristine, guileless. Everywhere we walked we saw beauty and simplicity. Surely our knowledge of the genocidal bombings influenced our hearts and eyes yet the reality is that the Basque people truly respect their milieu, their traditions, and their responsibilities.

The peace museum portrays the bombing, and the Culture of Peace and Human Rights exhibition. Images of well known activists for peace fill the walls. A famous quotation by a former president of the American Humanist Association, Russian-American author Isaac Asimov rams through:
"Violence is the last resort of the incompetent."

I bent over a clear glass floor covering ruins from 721 houses the bombs destroyed. Hundreds killed. I wondered how human beings can be so cruel, how rich Basque kinsmen could bring themselves to point out human targets for the fascist monsters to murder and destroy? I saw and heard an audio-visual interview with one survivor. She concluded: "The most important thing is not to lose faith and hope in life."

Up a hill from the museum of peace is the traditional Assembly House with the Oak Tree of Gernika before it. Its child and grandchild are planted nearby to continue the centuries-old tradition.

The universal symbol of Basque history can be seen through a large window in the Assembly House. Part of its roof is magnificently color-flowered glass. Inside the house one travels through cultural and ethnic traditions that bind the Basque people.

Beside the Oak Tree and Assembly House is the Museum of Euskal Herria (Basque Nation). Here the evolution of this unique people is traced. The museum was built where the Palace of Alegría had once been. The palace was burned down during a Basque rebellion in 1718, the "Matxinda" revolt so named for the iron workers who led it. Spain's King Philippe V attempted to move Basque custom posts, which would have increased tariffs, but his orders were overlooked in 1721 due to the ferocity of the rebels.

Behind the museum is the Park of the European Nations. Here are two sculpture tributes to the victims of the bombings. Eduardo Chillida's work is entitled "Our Father's House", and Henri Moore's is "Great Figure in a Shelter". This was made in 1985-6, one of Moore's last.
6. Atapuerca UNESCO World Heritage Site: Who are we?

We hired a taxi for the 15-kilometer trip from Burgos to Atapuerca since there is no public transportation. The chauffeur told us that most of the few villagers in Atapuerca live elsewhere during the winter and come in the summer to second homes. That explains why this rustic town seems like a ghost town despite the beautifully preserved houses made of adobe and limestone plaster framed in oak beams.

Atapuerca lays at the foot of a small hill where a modest church stands. Sculpture tributes by local artist Antonio Lingstrom of Velazquez' "Las Meninas" and the ancient hominid Homo antecessor make this place extra special. Atapuerca is also a stop for the 800-kilometer walk, El Camino Santiago (aka St. James Way, Camino Francés). Some say it has religious origins from Saint James' beheading in Jerusalem in 44AD. Others date it back to the middle ages, and yet others to pagan pilgrimage before Jesus Christ. At any rate, it is now travelled on paved roads by hundreds of thousands of people from around the world annually.

The low Sierra de Atapuerca mountains look like Swiss cheese because of its many holes caused by karst soil and dissolved rocky terrain. Three rivers flowed here providing for a wealth of flora and fauna. Long ago the area was a preferred occupation site for many large animals—elephants, rhinoceros, hippopotamus, bisons, bears, boars, wolves, foxes, horses, lynxes, panthers and deer—and small animals—mustelids, moles, rabbits, shrews, mice and many bird species.

We stayed at the Papasol Rural inn, a restored rectory, which serves good meals and decent wines (Rioja is nearby). Innkeepers and local guests offer information and an atmosphere of hospitality. We could see five ponds that attract flocks of many migrating birds from our cosy room.

Our guide through the nearby archaeological sites was a young woman studying for her doctor's degree in anthropology. She explained how the first archaeologically significant bones were found when an English railway firm was commissioned to construct a railway line. It uncovered some fossils yet it took many years before any were identified to be meaningful. Fortunately the digging stopped when the company went bankrupt and before much damage was done to one of the world's greatest fossil locations. Deep trenches through rocks and sediments were dug deeper and revealed cave sites: Gran Dolina (Big Sinkhole), the Galería Elefante (Elephant Gallery) and Sima de los Huesos (Pit of Bones).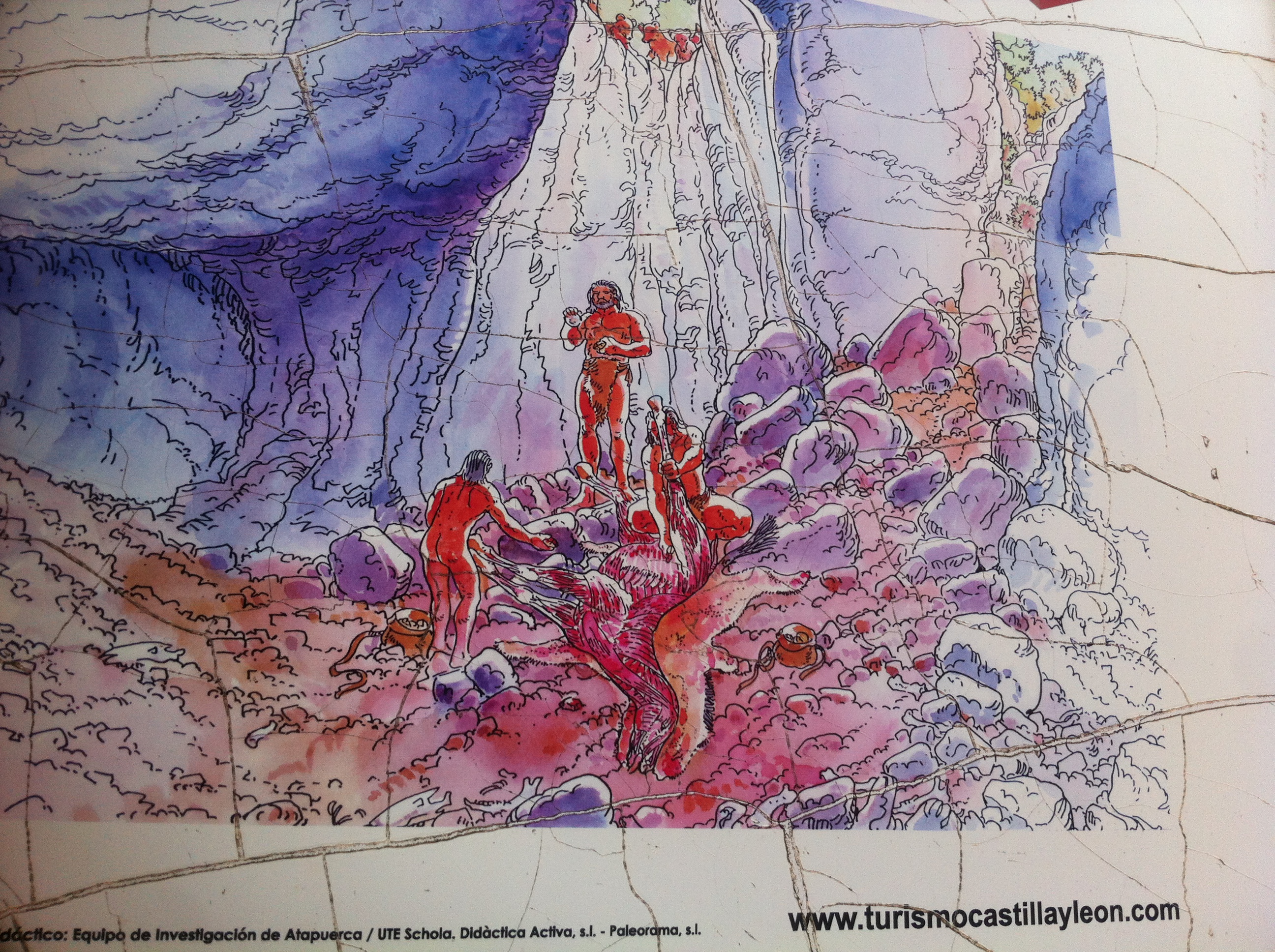 Artists imagination of a heidelbergensis settlement

Excavations have uncovered so much prehistoric life that scientists expect digging will continue to enrich our knowledge for decades to come. As it is now, they only dig a few weeks of the year because it takes so long to classify and identify the wealth of finds.

I caution readers that what I was told at Atapuerca, what I saw in the museums and what I have read about our distant ancestors is a mixture of fact and speculation. There are many theories about our roots. While most scientists are convinced that our first ancestors lived in Africa between six and seven million years ago, some learned Chinese believe the first hominids came from their part of the world. Although solid evidence found since discoveries after World War II put our beginnings in Africa, it wasn't until we learned about DNA in the 1980s that most Western scientists accepted the "dark continent" as our beginnings. It took so long to admit this because of racial prejudice that whites must not come from blacks and thus humans had to originate in Europe. (8)

We were mesmerized as we viewed the excavation of the largest human fossil-bearing deposit in the world, as well as one of the greatest stone tool assemblages in Europe. All this and more about our roots have been found in the three pits dug down as many as 18 meters since 1964, but especially since 1978.

This exceptional reserve of data is located in a small area of the Sierra de Atapuerca near Burgos, known as the world capital of human evolution due to its Museum of Human Evolution, the National Human Evolution Research Centre where scientists from around the world join forces, and the University of Burgos, which focuses on pre-history and palaeontology. Evolution material and displays are also shown at a new location, the Fundación de Atapuerca near the sites.

The hills and plains saturated in a wealth of flora and fauna attracted many hominids: Homo antecessor (meaning pioneer/explorer and is so far Europe's first known hominid), Homo heidelbergensis, and as yet an unknown hominid, temporarily called Homo SP (species). This SP could be the direct ancestor to Homo Neanderthal and Homo sapien also found here.
Amazingly all this wealth of life has been found within a kilometer where the three pits have uncovered several caves where animals were trapped or lived, and where settlements of the various hominids lived in caves, layered on top of one another without their knowledge.

Antecessor is thought to have been the first series of hominids out of Africa into Eurasia. In 1997, eighty fossils of six antecessor individuals (fragments and a lower jawbone) were discovered at two Atapuerca caves. Later, some fragments were discovered in France and England where 800,000 year-old footprints were also found. Antecessors stood tall between 1.6 and 1.8 meters. Males weighed up to 90 kilos. Their brain size was between 1000 and 1150cm3.

The earliest data of these hominids dates back 1.3-5 million years. They lived in groups of about 30 persons, and died out 800,000 years ago. Homo antecessors made stone knives that could de-flesh large animals such as mammoths, hippos and rhinos.

Scientists have learned that H. antecessors found in the lower caves were mainly vegetarian, but they did eat some meat including hominid flesh. It is not known if this cannibalism was practiced only on hominids once they died or if some might have been killed, in order to be eaten. Most other hominids, including Neanderthals and early Homo sapiens, practiced cannibalism sometimes. Recent studies (8) show that sapiens sucked bone marrow of deceased family members perhaps in their homage rather than for nourishment. Skull caps could have been used for drinking water and holding food. Both Neanderthals and sapiens had rich cultures with artifacts, jewelry, rock/cave paintings, fire and language. They obtained much more nourishment from hunting animals than eating themselves. Even some modern sapiens practice or recently practiced cannibalism for various reasons, including for food—Fore people in Papua New Guinea for instance.
Various hominid-peoples lived in the Atapuerca area down through to the Iron Age. Cave burials continued until at least 4000 years ago. Neanderthals, known to be descendents of Homo heidelbergensis, lived in the open plains here between 70,000 and 30,000 years ago. They mingled with early Homo sapiens, who also lived in these plains and hills. These most modern hominids also paired. Neanderthals existed between 150,000 and 28,000 years ago in Africa, Asia and Europe. Their extinction is still a mystery but it is thought to have to do with climatic changes rather than genocide by Homo sapiens, who were better able to adapt to climate change. Homo sapiens evolved in Ethiopia some 150,000-200,000 years ago (9), then in the Near East 100,000 and in Europe 35,000-40,000 years ago.
Homo heidelbergensis are thought to be a distant offspring of Homo antecessor. They have been found at two other sites within sight of where antecessor was found: Covacho de los Zarpazos and Sima de los Huesos. Heidelbergensis fossils dating 700,000 ago have been recovered in Ethiopia, Namibia and South Africa. Many scientists believe that groups of Heidelbergensis migrated to West Asia and Europe between 600,000 and 400,000 years ago, and thus the finds in Atapuerca, Germany and elsewhere in Europe. A complete pelvis of a 45 year-old burly male was found in Atapuerca to be 500,000 years old. The first find of these people in Europe was at the Heidelberg site in Germany, and thus their name.

Heidelbergensis were tall, broad and burly. Males averaged 1.75 meters and weighed 60 kilos; females 1.57 meters and 50 kilos. Some males were as heavy as 90 kilos. They had a 1280 cm3 size brain, nearly as large as Homo sapiens, 1350 cm3. Homo Neanderthals had larger brains, 1500 cm3. In the latter part of H. heidelbergensis existence some brains grew to as much as 1450 cm3.

The largest and most significant human fossil find is in the Sima de los Huesos. Body parts and craniums of twenty-eight Homo heidelbergensis are among 3000 human fossils uncovered there. A large pile of bones of individuals of all ages appears to have been brought by peers to this cave and thrown or placed in a shaft ("pit") there. This act may be the first symbolic expression in the archaeological record. They may have also been the first hominids to bury their dead.

Our guide explained that they cared for one another when an individual could no longer obtain or chew food. Teeth have been found that show infections would have prohibited the individual from chewing its food, mainly hard roots and nuts. Someone had to have chewed the food for the person and then fed him or her, just like some mother birds and animals do for their babies. These people also ate herbs and fruits, as well as meat from large and small animals. There is as yet no unequivocal evidence that they practiced cannibalism, albeit a face of one of their people in Ethiopia appears to have been de-fleshed as in cannibalism.

Heidelbergensis people formed a cohesive clan. Fertility seems to have been frequent with short intervals between pregnancies, which usually began at age 15. Child birth was probably easier then than today because baby heads were smaller. Life expectancy was longer than other hominids due to greater care of the group's young, elderly and sick persons.
Scientists at Atapuerca have analyzed a 450,000 year old H. heidelbergensis femur. The discovery of this prehistoric DNA is a major achievement as is the sequencing of ancient genetic material. This helps to trace genetic links to descendants such as ourselves. Scientists now believe that H. heidelbergensis is the ancestor of Neanderthals and modern Homo sapiens, even perhaps the most recent find Denisovans (named for the cave in Altai Mountains in Siberia where a Denisovan female finger 41,000 years old was found). (10)

Heidelbergensis mastered fire and communicated using language. Fire was known to African peoples one million years ago and in Europe several hundreds of thousands of years ago. They may have been the first hominids to build shelters above ground of wood and rock, as well as living in caves. They were also the first to use wooden spears for hunting. Stone points for hunting have also been found. This could mean that Sapiens and Neanderthals inherited the stone-tipped spear rather than developing the technology. Heidelbergensis used flint and quartzite to dismember and skin animals. Their prey was the largest of animals: elephants, rhinos, hippos. Horses were a specialty.

Mastering fire allowed them to create a social space after dark. They transformed the environment and humanized the land. "Their society was more important than the individual, and their group bonds opened the way to compassion and symbolism." (From "Illustrated Guide to Atapuerca".)
Could these discoveries of our past enable us to change our present, in order to liberate our future so we can live harmoniously and peacefully as Homo heidelbergensis people apparently did?

7. Madrid, Conclusion

We had looked forward to seeing great works of art in Madrid, especially Picasso's "Guernica". But now after two intense days at our ancient ancestors' settlements, staring at their tools and even their bones anything else seemed like an after climax. I dreaded returning to "civilization".

Sure enough, just as we got off the bus at the Madrid station we saw several cops with machine guns and pistols drawn, and dogs, searching two Africans for something. I often hold an eye on such a confrontation to find out if the victims are underdogs or maybe guilty of something significant.

Holding an eye on cops to register any brutality goes back to the 60s when we fought against police brutality and their racism. But this time with all our baggage, we decided to move on and take a taxi to the apartment room we rented in Lavapies (wash feet). And wouldn't you know it, the cab suddenly stopped a few blocks away. The chauffeur was trying to get it started when a cop approach with machine gun drawn.

"You can't stop here," he said curtly. "You're in front of the Ministry of Interior", that is, his ministry, which controls all police and secret services. As he spoke the radio was reporting a terror attack in London. We caught a few words about what we soon learned was a one-man, 82-second attack on Westminster Bridge near the Parliament. Fifty-two year-old British-born Khaled Masood's last message was that he would wage jihad against Western war-making in the Middle East. He drove his car through a crowd of people killing four and injuring 50. Then he ran towards the Parliament, stabbing a policeman to death before he was shot dead by another one.

That news was immediately followed by a report from Brussels where a ceremony was underway commemorating the terrorist murder of 32 people and the injury of over 300 one year before on this day, March 22.

Homo sapiens are known to be better than other hominids at surviving all sorts of disadvantageous conditions, because we are so adaptable. I must be an exception, because I sat in this cab feeling helpless, frustrated, sad and angry, wanting to be back where we had been just a few hours before, in the quiet Sierra de Atapuerca romanticizing about our more tranquil ancient forebears.

Meanwhile, the cab driver had fixed the problem and we were off again, soon to be left off at our address on Calle de Amparo, the Street of Protection.

Many immigrants from African and Asian countries live in this central district. They frequent shops and eating places specializing in articles and foods from their home country. Calling home and sending money to relatives is so common that several such establishments, like lycamobil, are located on nearly every street.

These people and local indigenous Spaniards often gather at a park to talk, smoke pipes filled with fruit and other sorts of "tobacco", and play guitars. There is less speed here than in the commercial parts of this huge city. Over three million people live in the city and 6.5 million in the metropolis. But many Madrileños, as residents of Madrid are called, are stressed as much as other peoples in huge cities. Maybe that is why they talk even faster than most other Spaniards. But Madrileños still enjoy tapas with drinks, for a price, many flamenco dance halls (although guests are not invited to dance themselves), and jazz. We heard a great jazz singer—a Danish woman, Sinne Eeg—and her band at one of the most popular clubs, Central Café at the Plaza del Àngel.

Employer associations and unions were in the midst of negotiating contracts while we were there. The terms in dispute are a sad reflection of the loss of workers power in this generation. Inflation is at 3% so the bosses want to offer 2% wage increases while the unions are "demanding" between 1.8 and 3%.

The employer associations are operated for the benefit of rich gougers, who pay off politicians so that we get fewer benefits from our labor. What has happened to us; why are we so passive? I read what columnist Antonio Navajón wrote about this in "El País", February 2, 2017. He postulates that we live in an "epoch of muscle rather than intellect".

Navajón calls this epoch a "black hole" where social objectives and morality have been lost. I say that this abyss is facilitated by the big bosses and their politicians paying their police, their soldiers, and their propagandists with our money to confuse us, and to make us afraid to rise up.

But Spain is also the hearth of Los indignados, and other conscientious motivated people who know what it means to feel solidarity and to act upon that sense of brotherhood.

Manuel Blanco, Enrique Rodríguez and Julio Latorre are Spanish firemen from Seville. News of millions of fleeing human beings from their war-torn homelands touched their hearts. (11) When the drowned body of a child washed up on a beach in Turkey, they decided to take a stand. In December 2015, they traveled to Lesbos, Greece to help save refugees from drowning in the Turkey-Greece area.

On January 14, 2016, they and other volunteers received notice of a possible shipwreck of a group of migrants who were attempting to reach Greece. They decided to search for the sinking boat. They wore their rescue uniform with light-safety helmets. After a reasonable time looking for the potentially shipwrecked boat, they considered the operation unsuccessful and decided to return. Suddenly, Greek authorities in a vessel approached them and told them to meet in the coast guard's office. The three Spanish volunteers were interrogated and arrested for "human trafficking" and weapon possession, that is, a mandatory line cutter kept in rescue uniforms.
In jail three days they were able to place bail of 5000 Euros each. But they face ten years in prison on false charges for illegal human trafficking. Two members of a Danish NGO, Team Humanity, were arrested with them.

The three Spaniards are members of the NGO, Professional Emergency Aid, http://www.proemaid.es/quienes-somos . It and other organizations ask people to sign a petition demanding that the European Commission right this wrong. Humanitarian workers must be free from criminal charges for rescuing people. https://act.wemove.eu/campaigns/criminalising-humanity-souint?utm_source=sou&utm_medium=mail&utm_campaign=en_20170513
Other Spaniards, even the famous Real Madrid soccer club, work for peace and the right to life. Real Madrid has had owners, players, and fans supporting right-wing issues. But the club recently joined in partnership with United Nations Relief Works Agency to establish eight social sports schools in the West Bank and Gaza Strip, benefiting 10,000 Palestinian refugee children. On November 25, 2011, some of these children, 1,000 in all, formed a Picasso "Dove of Peace" at the foot of Mount of Temptation outside Jericho, West Bank. This is a part of a UNRWA project with aerial artist John Quigley. "Peace on earth", an end to the human created causes of refugees, was their message.

Notes:

(1) See Randy's piece: http://www.counterpunch.org/2012/07/20/when-i-started-hating-america/
Regarding American Exceptionalism, John Pilger referred to President Barak Obama's exclamation: "I believe in American exceptionalism with every fiber of my being". This is what Pilger meant when he wrote, "American political life is a cultish extremism that approaches fascism." See his piece, "The Issue is not Trump, it is us" https://www.counterpunch.org/2017/01/17/the-issue-is-not-trump-it-is-us/
(2) "How many Muslim countries has the U.S. bombed or occupied since 1980?" wrote Glenn Greenwald, November 6, 2014.Greenwald cited former army colonel Andrew Bacevich, who wrote that Syria had become at least the 14th country in the Islamic world that US forces had invaded, occupied and/or bombed, and in which US forces killed and/or were killed. And that was just since 1980. https://www.washingtonpost.com/opinions/even-if-we-defeat-the-islamic-state-well-still-lose-the-bigger-war/2014/10/03/e8c0585e-4353-11e4-b47c-f5889e061e5f_story.html?utm_term=.b8ff8d252546
Iran (1980, 1987-1988), Libya (1981, 1986, 1989, 2011), Lebanon (1983), Kuwait (1991), Iraq (1991-2011, 2014-), Somalia (1992-1993, 2007-), Bosnia (1995), Saudi Arabia (1991, 1996), Afghanistan (1998, 2001-), Sudan (1998), Kosovo (1999), Yemen (2000, 2002-), Pakistan (2004-) and now Syria.)
Nobel peace prize winner President Barak Obama, the hope of black and "progressive" Americans whom Colonel Bacevich supported in his first election, bombed seven Muslim countries plus Muslim areas of Philippines. Obama was the fourth consecutive US president to bomb Iraq. Look up on the internet for a "list of wars involving Spain." It should not be surprising that "chickens come home to roost".
(3) Fuengirola is said to have acquired its name after the Arabs were overthrown by Spanish Christians. Moors had called the town Sohail. The river flowing through the town, which empties into the Mediterranean, was once navigable and used especially by fishers. The hub of a boat is called a nave, as is the central passage of churches. The Spanish word for nave is "girola". The Christians were mainly farmers and fishers and they went to church a lot. It became common to say that one went to fish on the river. The past tense of "to go" in Spanish is "fue". So, one could say, "fue a girola"—I navigated the river or: gone fishing.
(4) In April municipal elections pro- monarchists received 25.6% of the vote; the rest were for a republic. In general elections, 70% of those eligible voted, considered high. At that time, however, women were denied the vote, although ironically they could run for office. The republican constitution of December 1931 granted the right to vote, and many other equal rights. Of the 34 political parties that won over 1% of the vote and thereby a seat in the 473-seat parliament, outright monarchist parties only received 10 seats; and rightist parties won 20 seats. The republican and socialist coalition won a huge victory with 34% of votes (193 seats), while the social democratic PSOE took 14% (80 seats).
(5) Germany provided Franco forces with 600 war planes, 200 tanks, and 16,000 soldiers. Italy added 660 warplanes, 150 tanks, 800 artillery pieces, 10,000 machine guns, 140,000 rifles, and 50,000 soldiers. Portugal sent 20,000 "volunteer" soldiers.
(6) The Soviet Union provided military assistance at the cost of all the Republic's gold reserves. It sent old equipment no match for the more modern axis weapons: 1000-2000 artillery pieces, out-dated rifles, 350 tanks and 600-800 planes. Their 2000-3000 soldiers were mostly volunteers, advisors and secret service personnel. Mexico was the only other country to help the Republic. It provided about $2 million in aid, which included 20,000 rifles. It was also offered sanctuary for about 50,000 refugees after the Republic fell. But the European democracies and the US declared neutrality and didn't even offer returning internationalists safety. Some were imprisoned in their home countries.
(7) See the Basque GARA newspaper, March 20, 2017, www.naiz.eus.
(8) See: http://whc.unesco.org/en/list/989, and one of the best books on the subject "Illustrated Guide to Atapuerca", written by a team of experts, Atapuerca Research Team, EIA. More material can be bought at the Burgos Museum of Human Evolution and the Atapuerca Foundation and Reception Centre. See Scientific Report, 7 for study on cannibalism: https://www.nature.com/articles/srep44707
(9) As I edit this work for the last time, scientists just discovered that Homo sapiens are 100,000 older than believed until June 2017, around 315,000 years old. One skull, one complete mandible with teeth, and many other bones of five individuals who died about the same time were uncovered in Morocco (Jebel Irhoud) far from the other earliest evidence of modern man. "We did not evolve from a single 'cradle of mankind' somewhere in East Africa," declared Philipp Gunz, one of the discoverers. They looked like us; they made complex tools, including wooden handled spears and cooked their food. With this find, Homo sapiens are older than Neanderthals—for the moment. See Nature international journal of science, and major newspaper articles, June 7.
(10) DNA=deoxyribonucleic acid, which is the hereditary material in cells, which is our basic building blocks.
(11) UNHCR (United Nations High Commissioner for Refugees) reported that there are more people fleeing their home lands (including refugee and asylum seekers) today than since World War II: 65.3 million. Only six percent attempt to come to Europe. Europe received 1.1 million asylum applications in 2016. In 2014, 57 people drowned on their way to Europe; in 2015, 1,855; in 2016, over 5,000 drowned in the Mediterranean Sea. In one week in May 2016, 880 drowned en route. Most European nations and the EU commission seek to stop anyone from aiding them. Greece, Denmark and Hungry fine or imprison people for doing so.