US/UK Seek to Silence Julian Assange and Free Press: Activists, Artists, National and International Leaders Say NO
[April 28, 2023]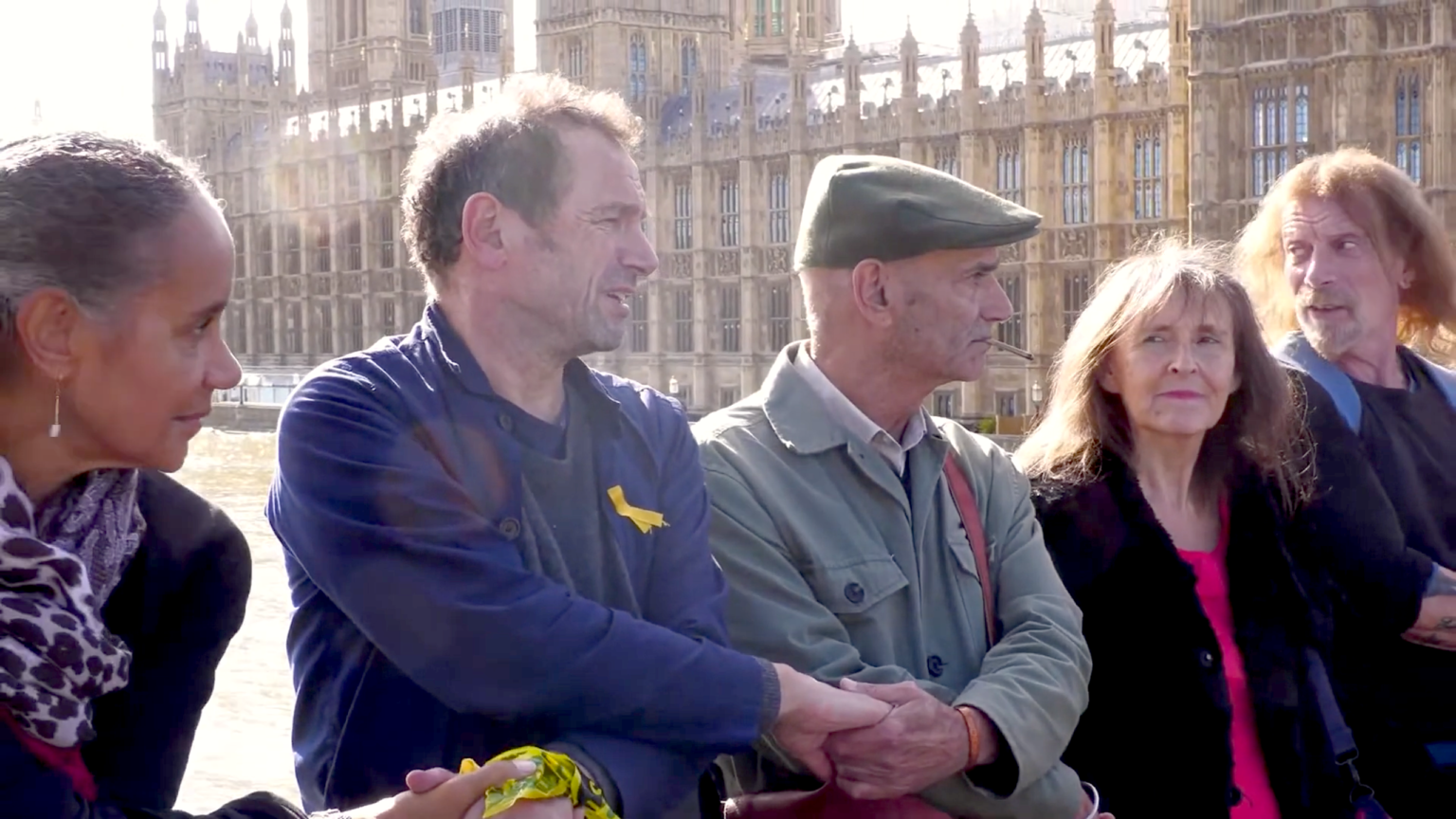 Human Chain surrounds Britain's Parliament demanding justice for Assange and a Free Press, October 8, 2022. This first ever action drew several thousands.

On April 4, in what could be a major positive development in the 11-year entrapment and four-year solitary confinement by Britain of Wikileaks founder and publisher Julian Assange, he was visited for the first time in the hell-hole of Belmarsh Prison by the Australian Labour Party-led government's new High Commissioner to the UK, Stephen Smith.

After Smith's visit to the tiny cell where Assange has been confined for what will be four years come this April 19, fighting a Washington extradition request that if approved and acted upon would have him facing espionage charges in a US court, Australia's Labour Party Prime Minister Anthony Albanese confirmed that he had "said publicly that I have raised the issues" of the US charges under a century-old Espionage Act that has never before been used against a journalist, and of the extradition effort as well as the 12-year dogged pursuit by the US of the Wikileaks publisher.

Albanese said he had "encouraged" his High Commissioner to visit the captive Assange — the first time any Australian consular official had visited this Australian captive since his incarceration in the medieval prison for major violent criminals since his ordeal there began in 2019.

Albanese, who had pledged during his campaign for PM to work to free Assange finally made it clear on April 5 that her was doing so.
"I have said publicly that I have raised these issues at an appropriate level,' he said. "I have made clear the Australian government's position, which is: enough is enough. There's nothing to be served from ongoing issues being continued…I said that in opposition. And my position hasn't changed."

Assange, his support movement in the UK, and his family expressed optimism about the clear and unprecedented shift in the Canberra government's attitude towards Assange, an Australian citizen who had been left by his home country to dangle in Britain's politically corrupted legal system since 2012 under both Tory and Labour governments. His brother Gabriel Shipton told the Australian Associated Press that the High Commissioner's visit is a "significant and necessary step.," He added, "We look forward to the Australian government continuing on this path that leads to Julian's freedom."

The news wasn't all positive to be sure. A delegation of three representatives of the Paris-based journalist rights group Reporters Without Borders (RSF) was denied entry to Belmarsh Prison on the same day as the High Commissioner Smith was visiting him, reportedly with the explanation that British officials had "received intelligence" that the three visitors were actually journalists.

One of the RSF would-be visitors was the organization's Secretary-General Christophe Deloire, who had traveled from France for the visit. He called the explanation "absurd" and told a reporter for the Australian Broadcasting Corporation, "Clearly the official explanation of this denial of access is not sincere. It was decided and communicated with bad faith. But this is another evidence that in the case of Julian Assange, nothing is ever normal. That the judiciary and the prison administration do not deal with him as a normal prisoner."

The evident shift in Australian government policy towards Assange under its new Labour government has been slow in coming. During Albanese's first year as PM, he said nothing about the case, but last November 30—two days after the publication of a powerful joint editorial in four leading newspapers including the New York Times, the Guardian, Le Monde, El Pais and the German news magazine Der Spiegel calling on Biden and his Attorney General Merrick Garland to drop US charges espionage against Assange and halt its extradition effort—Albanese promised to call for Assange's release.

Yet he did not do so at the summit meeting last month when he met with Britain and US leaders. There was heavy criticism in Australian streets and in Parliament, as well as at an anti-war rally on March 18 in Washington, where "Free Assange" signs were held by many, and at which Assange's brother Gabriel Shipton called for his release. A month before, another anti-war demonstration organized by the libertarian right at the Lincoln Memorial also called for Julian's freedom.

Grilled in Parliament by MPs like Independent Monique Ryan who said the government needed to do more to free Assange, PM Albanese insisted that he had raised the issue of Assange's lengthy captivity with "US officials" again let it be known that Australians, and he personally, felt "enough is enough," and calling for the case to be ended.

That wasn't enough for some MPs. Green Party Senator David Shoebridge, in a social media post, termed the High Commissioner's visit to Assange "nothing more than a welfare check" and added it occurred "only after a global campaign that has shamed the Australian government for its inaction."

The obscenity and danger of the US use of the Espionage Act against Assange

President Barack Obama was a prolific user of the 1917 Espionage Act against government leakers, but he opted not to have his Justice Department use it to prosecute Assange despite Wikileaks' release of graphic evidence of the US military's war crimes in Iraq and Afghanistan.

(That release had included the infamous "Collateral Murder" gunsight-mounted video showing the crew of a Cobra helicopter gunship laughingly machine-gunning a group of innocent unarmed Iraqis, including two children. Army analyst Chelsea Manning provided an internal video of this atrocity, which hsad been leaked to him by Chrlsea Manning, a private inm the US Armu in Iraq.)



Captured in US war against all Iraquis

Obama expressed concern that applying that Act to Assange would mean it could also be used against mainstream US journalists and even foreign journalists who published classified documents obtained from leakers and released by Assange. But when President Donald Trump took over the White House in 2017, he decided to have his AG indict Assange for espionage. He did this at the urging of the Pentagon, CIA, and State Dept. which were all livid at earlier Wikileaks revelations, and also at "Cable Gate," Assange's leaking of over 250,000 classified State Department cables exposing the covering up of crimes, the coddling of vicious leaders and other embarrassing government secrets hidden from Americans.

Although Joe Biden as vice president had publicly supported Obama's position on not prosecuting Assange, as president he has been solicitous of the interests of the national security state he inherited and has encouraged his Justice Dept. to aggressively pursue, in shamelessly accommodating British courts, the extradition of Assange. He would be tried on charges that could result in his receiving a life sentence of up to 174 years in a super-max federal prison.

Clearly, public pressure has finally started to work in Australia, where the Prime Minister is publicly and in private calling for his release, and in Britain, which allowed the Australian High Commissioner's visit unimpeded.
Clearly too, much more pressure is needed, especially in the US. The Biden White House has not responded — at least in public — to the current Australian leader's public and private calls for the case to be dropped. It hasn't even responded to the unprecedented simultaneous public editorial denunciation of its Assange prosecution by five global media organizations in the US and four leading supposedly democratic nations, all of them close US allies.

It will take a lot more than small demonstrations of hundreds or a few thousand people on the streets of Washington, or at the Justice Department building or the White House, though those are a start. What's needed is aggressive questioning by American journalists on the occasion of White House, State Department, and Justice Department press conferences.
(For example why aren't reporters asking: 'Mr. President, Mr. Secretary, or Mr. Attorney General, why are you ignoring the call by the head of government of Australia, one of America's staunchest allies, for you to drop your espionage case against Australian citizen Julian Assange?)

US journalist and writer organizations also need to join Reporters Without Borders in mobilizing campaigns and joining tens of thousands of ordinary people in taking to the streets and including Assange's freedom as a demand in all anti-military political actions.

In point of fact, Assange has had no trial and has not been found guilty of anything since 2012 when he was first detained under house arrest on a trumped-up Interpol warrant by an over-zealous pro-US Swedish prosecutor on the excuse of wanting to question him about a complaint by two Swedish women. When Assange learned the Swedish government was planning to extradite him, fearing (correctly) that once in Stockholm he would be packed off to the US, he sought asylum in Ecuador's embassy of Ecuador, which President Rafael Correa granted.

The torture of Belmarsh incarceration began in April 19, 2019. That was when the Justice Department filed charges of 17 Espionage Act violations against Assange and bribed a newly elected right-wing leader of Ecuador, Lenin Moreno, to terminate the asylum and invited British Metropolitan Police to enter the country's sovereign embassy and haul him out.
Julian's imprisonment in a place meant for violent killers and convicted terrorists appears to have been a move meant to wear him down during his legal battle against extradition.

The reason the US wants to get its hands on Assange? His Wikileaks organization dared to release to selected media classified diplomatic documents deeply embarrassing to the US, and which Washington's national security establishment did not want to be revealed either to foreign governments or to the American people. To see what the leaked cables in "Cable Gate" revealed check out this article by the Electronic Frontier Foundation (EFF).

Smearing Assange' and Torturing Him in Prison have been US and UK Tactics

A year ago, Britain's Supreme Court declined Assange's petition to appeal a High Court ruling that he should be extradited to stand trial in Alexandria, Virginia. The decision was predictable, because it was limited to considering only the narrow grounds of an earlier ruling by a London magistrate, who had found that Assange was a suicide risk if sent to the US, and therefore should not be extradited there.

Nils Melzer, UN special rapporteur on torture, determined that Julian was being tortured psychologically by British authorities who placed him in Belmarsh Prison, and, as reported on the website of the Assange Defense Committee, said he might end his own life there, too.

"The case is a huge scandal and represents the failure of Western rule of law," he found, adding, "If Julian Assange is convicted, it will be a death sentence for freedom of the press."

Basically, Assange has been a captive of the British government since 2012 when he jumped bail while battling an extradition request by Sweden. That request, by a Swedish prosecutor, was based upon a warrant seeking his appearance in Stockholm for a simple hearing on a woman's complaint about a broken condom and about whether he had continued unprotected sex with two different women after they had asked him if he had on a condom.

Two Swedish women, Anna Ardin and Sophia Wilén, both had consensual sex with Assange when he had visited them during talks in Stockholm, in August 2010. Ardin reportedly invited Assange to her home and bedroom. After hosting a party for him at her flat, she tweeted to friends that she was with Assange, one of the "world's coolest, smartest people; it's amazing". After several days of sexual relations, Ardin and Wilén went to the police to have them ask Assange to be tested for venereal disease. They said he had not always worn a condom; one was found on investigation to have failed.

The initial prosecutor investigating the case, Eva Finne concluded: "I do not think there is reason to suspect that he has committed rape. " and closed the case on 25 August 2010 concluding that the "conduct alleged by SW disclosed no crime at all."

In a January 2020 interview, UN torture rapporteur Melzer said he had "never seen a comparable case where a person was subjected to nine years of a preliminary investigation for rape without charges being filed."
In fact, when the two women initially went to police, it was the police who were pushing them, trying to make their request for help in getting Assange to take an AIDS test into a rape complaint.

Clearly, the US was unhappy with Finne's decision to drop the investigation, and so told the Swedish government, which then found a compliant prosecutor, Marianne Ny. She managed to get Interpol to post an unusual global "Red Alert" for his arrest to bring him in for "questioning."

The whole effort to cast Assange in the media as a sexist monster, likely dreamed up by the same CIA that also developed but never implemented a conspiratorial plan to assassinate Assange while he was in the Ecuador Embassy, was quite successful. News organizations — like the New York Times, Washington Post and UK Guardian which had happily run heavily promoted sensational front-page stories based upon the leaked documents provided to them over the years by Assange's Wikileaks (including the docs cited in the US Espionage Act case against him)– began enthusiastically referring to "rape charges" in writing about the US extradition effort. The bogus rape allegations continue to be used by some mainstream news organizations in the US and elsewhere, either by lazy reporters or intentionally by politically motivated publishers trying to curry favor with the US government.

Living in Denmark, journalist and co-author of this article Ron Ridenour convinced the country's largest news organization, Danmark Radio (DR), to correct a headline and text concerning the case. DR had used the farcical "rape charge". This is what Lotte Stensgaard, head editor, wrote to me, on November 25, 2019:

"You are right, Julian Assange has never been 'charged for rape'. "He had been charged with sexual assault but that was dropped in 2015. We apologize for our error, and have corrected it. Additionally, I have written to Ritzau [Denmark news agency], which wrote the article, and made them aware of the error, which they corrected."

Increased political action on Assange's behalf is having an impact
A shift in the dominant media perspective on the Assange case seems to be occurring, surely in no small part to growing public pressure—even if that pressure itself in the form of public marches and demonstrations doesn't get much media coverage.

Last November 28, five major news organizations in five of the world's leading democracies — The New York Times, the Guardian, le Monde, El Pais and Der Spiegel — in an extraordinary move, ran similar powerful simultaneous editorials calling upon the US to drop its charges against Assange and to end its extradition efforts.

All of them are touted as being their countries' leading "free" news organizations, but most had long ignored the Assange case or had run articles smearing him personally.

The Guardian editorial concluded:

"The US has this week proclaimed itself the beacon of democracy in an increasingly authoritarian world. If Mr. Biden is serious about protecting the ability of the media to hold governments accountable, he should begin by dropping the charges brought against Mr. Assange."

This indictment sets a dangerous precedent, and threatens to undermine America's First Amendment and the freedom of the press. Holding governments accountable is part of the core mission of a free press in a democracy.

Obtaining and disclosing sensitive information when necessary in the public interest is a core part of the daily work of journalists. If that work is criminalized, our public discourse and our democracies are made significantly weaker.

Twelve years after the publication of " Cable gate', it is time for the U.S. government to end its prosecution of Julian Assange for publishing secrets.

Publishing is not a crime.

It is a fine if belated sentiment and call for action, but there has been no follow-through. After a deadening silence from both President Joe Biden and US Attorney General Merrick Garland one would expect the Times and the other four publications (all of which have bureaus or resident correspondents in D.Cl, to contact, or better yet to have their Washington-based justice or national security beat reporters publicly press those two key figures for their response to the editorial. That has not been done!

We contacted the press offices of both the US Department of Justice and the White House for comment on the five nation, five-publication joint editorial calling for the dropping of all charges against Assange. The White House did not respond to two requests for comment, while the US Justice Department after two requests sent an email saying that the "national security unit" of the nation's top prosecutor had "no comment." An email to the Times' DC bureau chief also went unanswered.

We note that we also learned that the Times, though it never got a response from either Biden or AG Merrick Garland, much less an opinion piece by by som Justice Department spokesperson in rebuttal, has made no effort over the intervening over four months nor has its Washington bureau reporters, to press the issue with the two leaders.

In short, the Times' one effort — its first in the course of Assange's miserable 11 years of captivity to convince the US government end its grossly hypocritical persecution of Assange — appears for show (perhaps something to boast about at cocktail parties on Park Avenue West or a Trendy Village loft) and perhaps not a genuine attempt by the New York Times Co. to rescue the US Constitution's battered First Amendment guaranteeing freedom of the press from the major legal threat the Assange case poses. An email to the Times' DC bureau chief also went unqnsereed.

That means it's up to the American people to wake up and demand that Assange be freed.

It is not reported in the US mainstream media that Assange's captivity in the
UK and his slog through the British legal system has been carefully stage-managed by the US, which helped elevate a request for Assange's presence in Sweden to answer questions about his time with the two women, to a global "Red Alert" arrest warrant obligingly issued by Interpol, the private international police agency. That led to his being detained in the UK and, when Sweden sought his extradition, and to his seeking refuge in the Ecuadoran Embassy, which had offered him asylum.

Largely ignored too in the US mainstream media is the fact, as outlined in this Deutsche Welle story, that a Spanish company, working for the CIA, bugged the Ecuador Embassy allowing the US And British security services to monitor his every word, including his consultations with US and British attorneys, and that the CIA discussed with the Trump White House, plans to kidnap and/or assassinate Assange (Hillary Clinton, as Obama's Secretary of State, also is known to have proposed "droning him", during one of his addresses to supporters from an Embassy balcony — a statement Clinton later claimed was "in jest" when it came to light.)

Given all these negative and illegal covert campaigns it might be understandable that many Americans, who are largely uninterested and unaware of international news anyhow, at least if it isn't some tragedy involving American citizens (preferably white), it's not surprising that organizing greater public pressure on the US government has not been easy, but there is hope of this changing, at least in the UK and Australia, and maybe in the US too.

Assange spent seven years trapped in the small Ecuador Embassy, an unusually long stay. Ordinarily, when a country grants asylum to someone in its embassy, the country where that embassy is located (in this case the UK) honors the building's sovereignty. It eventually allows the person to be transported in an embassy vehicle to an airport, and flown to the asylum-granting country in one of its aircraft, all of which under international law are considered, under long-standing international law, to be part of the sovereign territory of he embassy's home country.

In Assange's case, however, Britain kept Metropolitan Police on 24-hour guard outside of the embassy (essentially just a large apartment in a residential building) for the seven years of Assange's grant of asylum. British authorities during that time vowed to arrest him even if he were transported in an embassy vehicle by the ambassador.

After the 2019 election, Ecuador's new right-wing US ally, President Lenin Moreno, allowed British police to raid his country's sovereign property in London and haul Julian off to prison, on April 11.

Later that day, as reported in the British Guardian newspaper, "He was found guilty of failing to surrender to the court and faces up to 12 months in a British prison." This although the warrant on which his extradition hearing had been in court had expired during his asylum and any claims against him in Sweden had been dropped.

The judge sentenced Assange nevertheless to 50 weeks for this minor offense, which often is punished with a fine or a few weeks jail time, but he was condemned to a hard-core dungeon, Belmarsh.

Julian's fear that if he didn't seek asylum in Ecuador, England would figure a way to extradite him to its trans-Atlantic ally, soon became a genuine threat. Ecuador's handing over Assange to the US and UK was so shameful a surrender of Ecuadoran sovereignty that President Moreno was widely criticized by his predecessor and by all Latin American countries with left governments. Even centrist Argentine leader Christine Kirchner condemned Moreno's servile acquiescence to US desires to capture Assange.

During Assange's decade-long confinement, including his four years in solitary confinement like a murderer, British courts have made a charade of the fundamental practice of the rule of law. In fact, British courts and government are submissively paving the way for Assange to be handed over to the tender mercies of what is farcically referred to in the US as a "justice" system.

Once in the US, should this be Julian's fate, he will be forced to stand trial in one of the most reactionary court districts of the United States. According to census data, the Northern Virginia city of 159,000 people, located 12 kilometers from downtown Washington, D.C. has a working adult population of 96,000, 24,000 or 25% of whom work directly for the government. Most of them for intelligence services (CIA, NSA) and defense departments which are located in that area. In addition, many private company employees are government contractors. Some of them certainly will be represented on his "jury of peers."

Although the US, in order to get Assange extradited, has promised not to execute him, he would face a possible life sentence in a super max prison in what the UN has condemned as a form of illegal torture. Thei anti-democratic Espionage Act does not allow defendants to argue innocence based upon the First Amendment or narrowly construed whistleblower statutes. Nor do Whistle-blower protection laws apply to the macabre Espionage Act.

As the US rogue state has repeatedly shown in such cases it will not allow Assange to defend himself by showing motivation, or any reason for why he published factual information-documentation of US war crimes — and most higher federal courts approve of such strictures. Nor can he even argue that the 1917 Act was codified to prevent US citizens and residents from spying against the US for its enemy when engaged in war—at the time of its passage meaning Germany. Assange is an Australian citizen, and there is no claim in the indictment that he spied against the US for any country engaged in war against it.

No British court wants to consider this farcical nature of US or UK justice offered to this prisoner, nor any other facts of abuse of power that in a court run by the "rule of law" would have long ago been dismissed.

Another important fact that should be sufficient for any real court of law to dismiss the case is that a key witness for the FBI and US prosecution, Sigurdur Ingi Thordarson, confessed to having lied profusely to please them. He said he was paid $5000 for his lies.

Actions to Free Assange and Support a Free Press

In the time since the Assange case was returned to the British Home Secretary where it still sits, grass-roots actions to free this "peoples' messenger" have increased, especially in England and Australia, and somewhat in US. National leaders around the world have also spoken out calling for an end to his persecution.

Freedom for Julian Assange was part of a lively multi-racial anti-war march to the White House, March 18, protesting the invasion of Iraq two decades ago and US wars since and before then. His brother Gabriel Shipton spoke at what march organizers optimistically dubbed the "rebirth of the anti-war movement". Wikileaks publications of US war crimes is bringing people to the streets.

Brian Becker, national director of ANSWER Coalition, principal organizer of the action, estimated the crowd conservatively at 2,500 or double that based upon the reports of the 200-plus organizations that had endorsed it.
Yet only two local network TV affiliates in DC showed interest. .

The Washington Post has a reporter whose beat, according to the Post's website, is "covering protest demonstrations." Nothing appeared. No other MSM printed anything. Nor was the Post's protest beat reporter or any other media organization's reporters covering some other demonstration at the time that day.

Other large actions focusing on Julian's freedom have taken place periodically since October 8, 2022 when a first-time-ever human chain of between five and seven thousand surrounded England's Parliament demanding, "FREE JULIAN ASSANGE"; "PROTECT PRESS FREEDOM"

Consortium News Live reporter Cathy Vogan reported on the march of people from many countries. It was estimated that at least 4,000 were required to surround the Parliament, and in several places the line had to snake to accommodate participants, despite a railway strike that had made it difficult for many to participate. Some who did make it were handicapped, some were even in wheelchairs. WATCH: CN Live!'s Video Report From London (consortiumnews.com)

Stella Assange, Julian's wife, whom he married in prison, walked up and down the line with her and Julian's two sons. The warmth of support for her husband shined on her face. Demonstrations also took place in Melbourne (estimates of 5000); Sydney (estimates of 10,000). Julian's brother Gabriel and father John Shipton participated in their native Australia.

Among prominent opinion-makers in London human chain were: Jeremy Corbyn, the former leftist Labour Party leader, British actor Russell Brand, Iraqi-British hip hop artist Lowkey, former counsel to the Ecuadorian Embassy Fidel Narvaez, former British diplomat Craig Murray, and WikiLeaks Editor-in-Chief Kristinn Hrafnnson. Members of France's Yellow Vest movement also took part. World-Wide Backing as Parliament Encircled for Assange (consortiumnews.com)

Reuters was one of few mass media to cover the London action. The Guardian, which benefited most from Wikileaks' publications, did not even mention the unique action, nor did BBC.

In Washington DC, about 500 protestors demonstrated in front of the Justice Department. Many activists carried a 240-foot long yellow banner saying: FREE ASSANGE. Randy Credico and his traveling banners too.

Venerable Australian journalist John Pilger says: "When people ask, 'What can I do'? [I] point to the billboard campaign created by the ever-imaginative direct action of one man, Randy Credico."

This one-man-activist and political comedian found volunteers to offer a van and drivers to spread the word for Julian's freedom around Washington DC. See Giant Mobile Billboard Campaign for Julian Assange Goes Viral and Will Keep On Truckin' Round the Nation's Capital | CovertAction Magazine
Ben Cohen, the co-founder of Ben & Jerry's Ice Cream, pledged: "I'll match each and every donation to The Julian Assange Mobile Billboard Campaign".
Tens of thousands of dollars were raised to keep the $500-a-day truck on liberty's course. This unique information campaign lasted from August 15 to November 30, 2022. The propaganda van was seen everywhere in Washington DC, including around major media buildings, five to seven days a week.

John Kiriakou, who served 30 months in prison for revealing the truth about the CIA torture chamber at the illegal Guantanamo military base detention center, told us: "I don't usually experience 'joy' when walking the streets of Washington D.C., but joy is what I felt when I saw a truck urging support for Julian Assange. I first saw it on Capitol Hill in front of the Senate office buildings—then later in Chinatown, outside the Capital Arena where Roger Waters was performing—and then at Farragut Square, arguably the most heavily trafficked place in all of D.C. I wasn't the only one who saw it. Thousands of Washingtonians did. And if it made even one go home and research Julian's case, it was worth it. I can't wait to see that truck again."

BELMARSH TRIBUNAL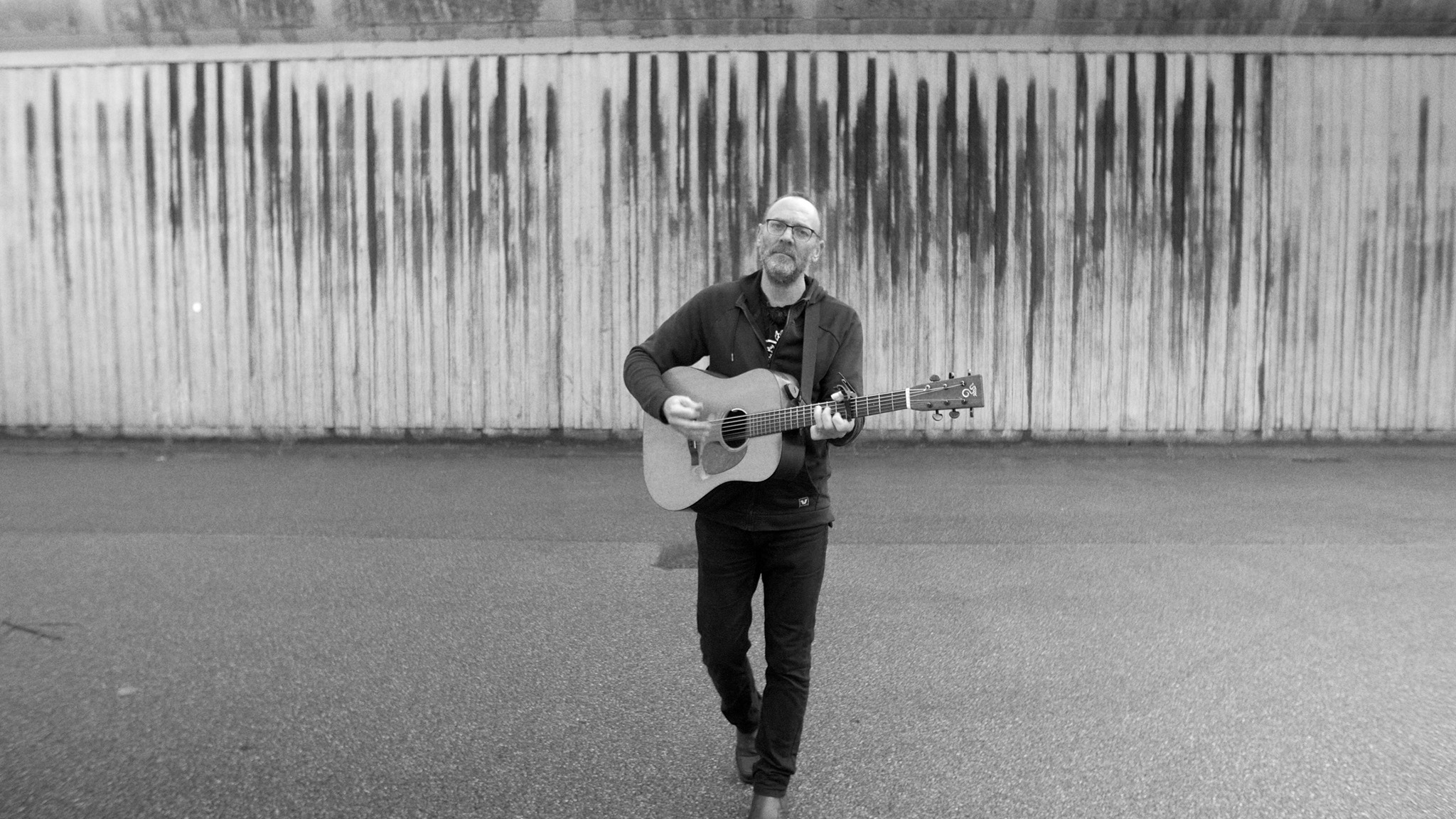 Folksinger Dave Rovice sings his song for Julian
in front of Belmarsh Prison
"Inspired by the Russell-Sartre Tribunals of the Vietnam War, the Belmarsh Tribunal brings together a range of expert witnesses…to present evidence of this attack on publishers, to seek justice for the crimes they expose, and to demand the Biden Administration cease this prosecution.

"Since its launch in 2020, Progressive International has hosted [five] Belmarsh Tribunals, convening parliamentarians and public figures in a virtual tribunal (2020), at Church House at Westminster (202l), at the People's Forum in New York City (2022), and at the National Press Club in Washington DC (2023)," and recently in Sydney. The Belmarsh Tribunal is coming to Washington D.C. | Progressive International

On January 20, 2023, the National Press Club in Washington DC was packed with 150 people and many thousands watched live online. Philosopher Srecko Horvat and Democracy Now's Amy Goodman co-chaired.

Not much MSM coverage, yet The Guardian, usually silent about support for Julian, wrote an actual news story.

"The hearing was held in the same room where Assange in 2010 exposed the 'collateral murder' video [Collateral Murder] showing US aircrew gunning down Iraqi civilians, the first of hundreds of thousands of leaked secret military documents and diplomatic cables published in major newspapers around the world…caused severe embarrassment in Washington." Biden accused of hypocrisy as he seeks extradition of Julian Assange | Julian Assange | The Guardian

Former CIA officer, attorney Jeffrey Sterling, sentenced to prison for three and one-half years for revealing to NY Times journalist James Risen that the CIA supplied US enemy Iran with flawed nuclear warhead blueprints. A black man, Sterling filed a lawsuit against CIA racial discrimination practices. The courts dismissed his case, using the kafkaesque argument that, "There is no way for Sterling to prove employment discrimination without exposing at least some classified details of the covert employment that gives context to his claim." Jeffrey Alexander Sterling – Wikipedia]

Sterling asserted that, "All Americans are slaves" because all are "forbidden to acquire knowledge through anti-literacy laws" decided by The Establishment. "That is the essence of the silencing punishment of Julian Assange.

Tranter told the audience: "The significance of the Belmarsh Tribunal could not be greater, and not only for Julian Assange and his family. We have reached a critical point in history for press freedom, and for all human rights intertwined with it."

But organizing mass protest in the US is the key. As Australian Assange has said:

…"we should understand that Australia is part of the United States. It is part of this English-speaking Christian empire, the centre of gravity of which is the United States, the second centre of which is the United Kingdom, and Australia is a suburb in that arrangement. And therefore we shouldn't go, 'It's completely hopeless, it's completely lost. Australian sovereignty, we are never going to get that back. We can't control the big regulatory structure which we're involved in in terms of strategic alliances, mass surveillance, and so on.'

No, we just have to understand that our capital is Washington. The capital of Australia is D.C. That's the reality. So when you're engaging in campaigns, just engage directly with D.C., because that's where the decisions are made."

Dean Yates, former Reuters Iraq bureau chief, spoke about his Iraqi photographer Namir Noor-Eldeen and driver Saeed Chmagh, shot dead by a United States Apache helicopter crew on July 12, 2007, in Baghdad. Nine other innocent civilians were murdered, and two children wounded. He said:

"This war crime was captured in a secret military recording, and leaked to Wikileaks by US army whistleblower Chelsea Manning. The publication of this shocking video footage, now titled Collateral Murder, was the main reason why Assange is being persecuted," Yates said. Yet the prosecution does not mention this in its charges." Yet, "Assange is, however, charged with publishing the US military's rules of engagement in Iraq — the same rules which make this killing a war crime'". Sydney session of Belmarsh Tribunal hears strong evidence for Julian Assange's freedom | Green Left
Julian's Family is Optimistic

On March 3, Randy Credico interviewed Julian's father John and brother Gabriel Shipton on WBAI radio. This interview was one of about 300 which Randy has conducted for Julian's freedom in six years. (120) Shiptons & Wyatt Reed! – YouTube

John Shipton feels optimistic about Julian's eventual victory, because of increasing support coming from many circles: street actions, teach-ins, the Belmarsh Tribunals, and new documentary film Ithaka: Film and Q&A tour – Assange Defense.

Mexican President Andres Manuel Lopez Obrador said, "If he [Assange] is taken to the United States and sentenced to the maximum penalty … we must begin the campaign to dismantle the Statue of Liberty."

Argentina President Alberto Fernandez said, "For justice to be done, the United States needs to drop the charges against Assange and put an end to the ongoing extradition proceedings." WikiLeaks Julian Assange News: Mexico, Bolivia, Brazil and Argentina – Bloomberg

Also speaking out for Julian's freedom are: Colombia's Gustavo Petro, Venezuela's Nicolás Maduro, Nicaragua's Daniel Ortega, former Ecuador President Rafael Correa, former Bolivian President Evo Morales as well as the current President Luis Arce. Stop the political persecution of Julian Assange (assangedefense.org)

Correa said, "The greatest traitor in Ecuadorian and Latin American history, Lenin Moreno, allowed the British police to enter our embassy in London to arrest Assange…what he has done is a crime that humanity will never forget."

In Australia´s parliament, 41 of 226 members of various parties support actions to bring Julian home. Other cross-party parliamentary groups supporting Julian's freedom exist in: England, Iceland, Germany, Austria, Switzerland, France, Spain, Italy, Greece, Norway, Sweden, Mexico, Brazil. Bring Julian Assange Home Campaign – Assange Campaign)
On March 30, Rep. Rashida Tlaib (D-DMichigan, began asking House asking members to sign a letter calling on the Justice Department to drop its case against Assange. Half-a-dozen Democrats soon joined.

Art as Action

"Anything To Say?" is a life-size bronze sculpture inspired by author Charles Glass and created by artist Davide Dormino. First shown in Berlin, May 1, 2015, they have been traveling to many countries. The work portrays three figures each one standing on a chair. The fourth chair is empty because it is OUR chair. Here we stand to express ourselves next to Edward Snowden, Julian Assange and Chelsea Manning. All are committed to the public's right to know. Anything To Say – Sydney – Assange Freedom Network WATCH: 'Snowden,' 'Assange' & 'Manning' Arrive in Sydney (consortiumnews.com)

On March 10, John Shipton emceed a rally in front of the Opera House. The bronze statues' silent voices, the live speakers, and the audience, all called upon PM Anthony Albanese to honor his promise and demand that President Joe Biden drop the charges.

Julian's father proclaimed, "The incoming tide is turning into a tsunami of support". Channeling Bob Dylan, he added, "You don't need to be a weatherman to see which way the wind's blowing."

Australian journalist John Pilger in his speech said: "The US, a salivating war country; deranged civility. And now with the UK and Australia aiming at China as the 'Yellow Peril' [expressing] their long history of racism. If Julian isn't released Australia will cease to be sovereign."

Pilger spoke of the man Julian, "whose dark sense of humor" reveals "thoughtfulness, incisiveness, and erudition. I saw him last December. We spoke for two hours, mostly about books he is reading. Then came the guards jangling their keys. When we parted, he raised a clenched fist in
defiance as he always does."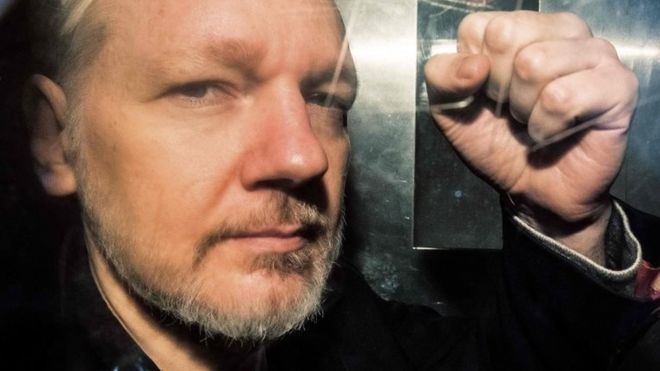 "When I first met Julian Assange more than ten years ago, I asked him why he had started WikiLeaks. He replied: 'Transparency and accountability are moral issues that must be the essence of public life and journalism.'" THE STALINIST TRIAL OF JULIAN ASSANGE. WHOSE SIDE ARE YOU ON? (johnpilger.com)

"I had never heard a publisher or an editor invoke morality in this way. Assange believes that journalists are the agents of people, not power: that we, the people, have a right to know about the darkest secrets of those who claim to act in our name."

Sydney is the site of many gatherings and demonstrations for Julian's freedom. Weekly gatherings and periodic demonstrations take place in Adelaide and Canberra, the capital city. The Assange Defense Committee and Amnesty International are the major supportive organizations. Assange Campaign – The Official Australian Website in Support of Julian Assange and Free Julian Assange Rally – Amnesty International Australia
The film "Ithaka"
John and Gabriel Shipton, and wife Stella spent four years preparing this 110- minute documentary, which Ben Lawrence directed. Its first screening, February 28, was sold out in Los Angeles, California. Many young people attended. Ithaka: Film and Q&A tour – Assange Defense
"Ithaka" is a Greek term for "everyman". The film humanizes the man, Julian Assange. It describes a journey with fears and how to overcome them. The journey is not only Julian's but also his family's as they embark on a daunting effort to rally global support. Over 60 screenings are being shown in the US. More screenings are planned in England, Germany, Australia…
Even some mainstream media have written reviews, often remarkably objective (in a good sense!) and more positive than not.
The Los Angeles Times wrote: [Julian] "being targeted for extradition" and if convicted "would [be held in] maximum security imprisonment for the rest of his life [which] is something that should chill the blood of journalists everywhere…his prosecution is a threat to democracy." 'Ithaka' review: Trapped between intellect and emotion – Los Angeles Times (latimes.com)
As of March 30, there were 758,200 signatures on the petition to free Julian. Petition · Free Julian Assange, before it's too late. Sign to STOP the USA Extradition · Change.org Reporters Without Borders and AI also have petitions: #FreeAssange: sign this petition opposing Julian Assange's extradition to the United States! | RSF and USA must drop charges against Julian Assange – Amnesty International

WHAT WE CAN ALL DO

Actions, attorneys, court fees, transportation cost $millions, and millions are being raised. How to donate: Donate – Don't Extradite Assange (dontextraditeassange.com) and Donate – Assange Defense and AssangeDAO raises $38M in donations to help free WikiLeaks founder (cointelegraph.com) and Donate to WikiLeaks
US defense committee contact: Assange Defense Committee – Assange Defense
Co-chairs are Noam Chomsky, Daniel Ellsberg and Alice Walker
You can also actually write to Julian: Write Julian Assange

School of the Americas Watch founder Father Roy Bourgeois, expresses how best to live with one another, all eight billion of us.
"It has always been about solidarity…to accompany, and to make another's struggle for justice and equality your struggle." About SOA Watch – SOA Watch

Ron's poem:
Join Our Messenger Julian
You will be more
More than just yourself
In fellowship will you be your true self
You are not an island unto yourself
You are yourself
When we are in one another's hands
We become more
When we protest what Julian Assange has revealed
When we say no to his hangmen
……