To be consequent as an Internationalist New Year 2012

[January 1, 2012]
(Expanded speech written for "Message from the Grass Roots" conference held December 10, 2011 at Carpenters Union—TIB—in Valby, Denmark. Herein are many wars and liberation struggles, from Afghanistan and Iraq, Pakistan, Palestine, over to Haiti and Honduras, to Sri Lanka-Tamils, and incorporating the pro-liberation and anti-capitalist movements in the Arabic world, in Chile, at OWS and spreading throughout the US and into some of Europe.)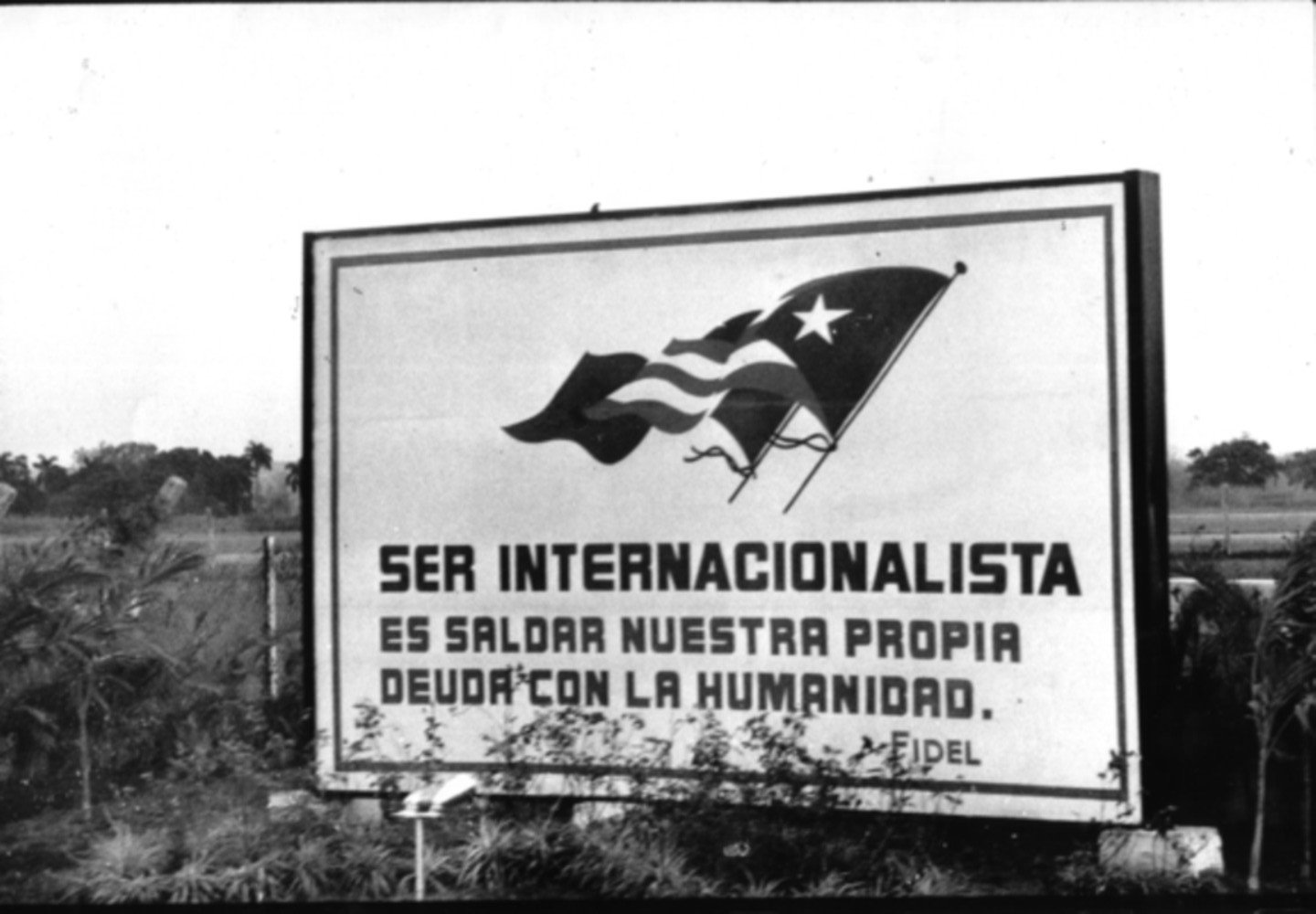 "To be internationalist is to pay our debt to humanity"
Says Fidel Castro and this can be read on many billboards in Cuba.
What is internationalism?—cooperation among people and nations, states my dictionary. The book of definitions maintains that internationalism is a principle of communism and socialism. It is the belief of ideological leaders such as Lenin, Fidel and Che.
Che wrote in his essay, "Socialism and Man", that proletarian internationalism isn't just a duty but a necessity. If revolutionary leaders forget this, Che wrote, the revolution will lose its inspiration and imperialism will benefit.
Che was also known for having severely criticized Soviet Union leadership for having lost its internationalism with the world's proletariat and the Third World. Following up on Che's critique, I find it important to criticize communist and socialist parties, and governments led by these parties, which let down people who are oppressed by or invaded by national or foreign powers.
Internationalism in action
1. Internationalists must support resistance fighters against invasions. Therefore, one must chastise political parties and groups that give political or moral support to those who call themselves the Iraq Communist Party as it is part of the Quisling government the USA terrorist state set in. ICP leaders live side by side the invaders in the Green Zone. That there are organizations in the United States, UK, Denmark and elsewhere, which call themselves communist or socialist parties and that cooperate with the world's greatest terrorist state is incomprehensible, shameful, immoral and anti-internationalist.
2. The same applies to people who still support the Zionist state of Israel, which commits genocide against the Palestinian people. Millions of decent people have gotten together to support Palestinians in many ways, including Ships to Gaza. In Denmark, four groups of people have challenged the state's terrorist laws by donating solidarity aid to the secular leftist PFLP which is part of the Palestinian resistance. Rebellion (Denmark), Fighters and Lovers, Horserød-Stuthoff Association (veterans of WWII resistance fighters imprisoned in Horserød and Stuthoff prisons), and TIB's club (local carpenters near Copenhagen) have aided both PFLP and FARC, Colombian armed liberation movement.
3. Internationalist can not cooperate with US-NATO aggressive wars, which always have the goal of controlling that country's economy and politics for capitalist profits. It is shameful that many experienced socialists and communists, as well as naïve progressive people, have backed up West's big capitalist plans to take over Libya, and thus have bombed Libya back to the stone age. Denmark was one of only six countries that dropped tens of thousands of bombs on Libya, destroying much of it infrastructure, schools, hospitals…In fact, Denmark dropped more bombs on Libya than it has on any other country in its history, Afghanistan included. And the pilots were cowards as there was no resistance by Libya's air force, already decimated.
This conflict has little to do with the Arab Spring movement. It is a conflict between internal war lords, with ordinary people involved who wished to increase democracy but who were misled by US-NATO whose forces seek to control Libya's oil and avoid a gold-based currency that Gaddafi was promoting amongst all African countries. Now, US-NATO has placed a lackey government in Tripoli just as they did in Afghanistan and Iraq.
4. Internationalists must also criticize comrade governments, such as Cuba and ALBA governments in Latin America, when they make big mistakes regarding internationalism. We can't be true comrades-solidarity activists by keeping our mouths shut when this occurs. Such is the case with their support of the brutal government of Sri Lanka, which practices genocide against the minority Tamil population. Ever since independence from Great Britain, in 1947, the majority Sinhalese governments and chauvinist Buddhist monk system has discriminated against Tamils. They have constantly been treated as second class citizens, their language and religions relegated to secondary status without national recognition. Even pogroms have been employed with the brutal murder of many thousand on various occasions. And since May 2009, following the end of 26-year civil war, ethnic cleansing in the traditional Tamil homeland in the north and eastern areas is the rule of the day.
Cuba and ALBA have spoken only positively of their historic ties with the Non-Aligned Movement (NAM), to which Sri Lanka is a member, but so are 113 other nations. One cannot, in the name of protecting each nation's sovereignty, avoid critique when one or more of these nations oppresses or conducts pogroms and genocide against part of the population. Nor can we accept as an excuse the immoral geo-political game that nearly all governments of whatever color play.
We shall also criticize Bolivia, Uruguay, Brazil and other Latin American progressive governments for helping the US and France in their ouster of the only decent and only democratically elected people's president in Haiti's history, Jean-Bertrand Aristide. These Latin American governments actually assist the US's 2004 coup d´état against Aristide by placing occupying troops in the small country, seeking to dampen the people's anger. These progressive governments should, instead, back up the people's desire to bring their president back to state power, just as they sought to do for President Zelaya in Honduras where national capitalists and generals kicked him out of office, with background support once again by the United States government.
5. On the personal and organizational plain, internationalism operates when workers of a major firm ask people to boycott a product because of the mistreatment of the workers by the firm. This is the case with Coca-Cola who workers in Colombia asked us to stop buying the "drink of the death squad" (David Rovics song), because it hires mercenaries to murder workers who seek to organize a union and struggle for collective bargaining. Workers in other countries, such as Guatemala, and farmers in India have asked the same.
It is with joy that I can state that here where we gather (carpenters' hall in Valby, Denmark), this union is one of the few local unions and political or grass roots groups in Denmark that has boycotted Coca-Cola. This is something any and all individuals can do. It is just a soda drink. So drink something else. Boycotting Coca-Cola is just like boycotting all products from Israel and Sri Lanka. It is a simple act of solidarity, of internationalism.
Charlotte and I have just returned from a six week trip in India where two of my books ("Tamil Nation in Sri Lanka" and "Sounds of Venezuela") were published by New Century Book House, Tamil Nadu. The Tamil book concerns the history and contemporary life of the Tamil people in that island-nation, and the need to act in solidarity with them. The Venezuela short book concerns this people's efforts to create a better world for themselves and solidarity with all peoples. When people asked us where we are from we often replied that we are "internationalists". Interestingly, many Indians understood our meaning and were pleased to think in terms of being brothers and sisters in the world.
This concept, and feeling, of brotherly love, of internationalism has taken off in a bigger way, in 2011, than in many decades. It started in Tunisia, and has expanded to the indignados in Spain, to the anti-capitalists in Wall Street and in hundreds of cities throughout the US and the West.
We have much to criticize and yet much to be glad for as 2012 opens. We must remember and appreciate those who set us off on this new anti-capitalist/anti-imperialist, non-violent and democratic revolution—from the martyr in Tunisia (street vendor Mohammed Bouazizi) and his Iraqi spiritual brother a bit earlier, shoe-thrower Muntazar al-Zaidi, to Occupy Wall Street protestors to Bradley Manning and Julian Assange and co-workers at Wikileaks, who helped spark it all by blowing the whistle on the war criminals. These modern-day Paris Commune resisters without arms—OWS and Occupy the World—are growing and they are presenting a vision and with it a program-in-discussion that must be studied and supported.
Internationalism is an endless struggle, an endless challenge. It does not end even when one or more of our political parties take over the governing reigns. We activists from the streets must always keep our wary eyes pinned on the leaders, regardless of their names, just as our clear eyes cast light upon humanity's future.