Cuba's Contradictory Stance on Tamils
[November 25, 2011]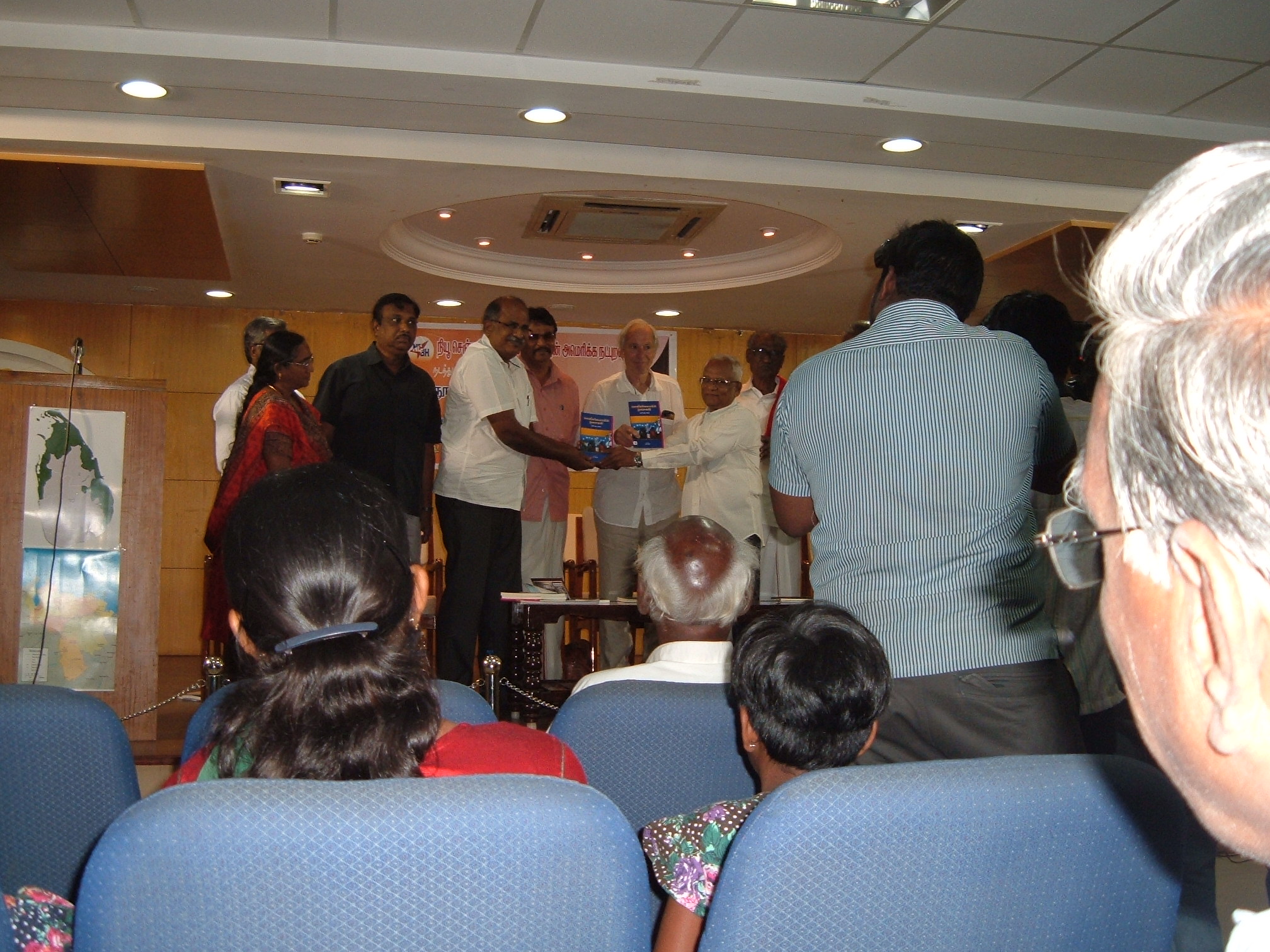 Foto by Charlotte Borup of book launching in library at Chennai with 250 participants. Tamil Nadu leaders on stage and me speaking. 12/11/11
"Injustice anywhere is injustice everywhere" is usually how I begin my talks in this three-week tour through several cities and four states of India. Martin Luther King's famous quotation is supplemented with the internationalist creed of Fidel Castro and Che Guevara. (1)
The reason for my tour is the publication here of two books I wrote:
"Tamil Nation in Sri Lanka" and "Sounds of Venezuela". My main topic here is to discuss why Cuba and ALBA's Bolivarian alliance of eight governments sided with the brutal, genocidal government of Mahinda Rajapaksa in wantonly murdering tens of thousands of Tamil civilians in the last stages of the war for liberation in Sri Lanka, and how can a mass movement get that righted. (2)
For 30 years the Tamil people struggled peacefully to obtain equal rights with the majority Sinhalese, asking simply that their language and religions be recognized on an equal plane, that they be allowed to obtain education and jobs equally with Sinhalese. They were met with murderous pogroms. Some then took up arms and a civil war ensued for more than two decades until the Tamil forces were defeated in May 2009.
At that time Cuba led the majority members on the Human Rights Council in praising Sri Lanka for its "humanitarian" efforts and for defeating "terrorism and separatism".
Also See: Tamils Seek Support from Cuba & L.A. [3]
Most Tamils in Sri Lanka and in Tamil Nadu, a southern state in India just a few kilometers from Sri Lanka, were admirers of Fidel and Che and had followed the Cuban revolution with enthusiasm. Hundreds of thousands demonstrated in Tamil Nadu after the May 2009 events to demand that India and the UN condemn Sri Lanka. India supported Sri Lanka with armaments, and intelligence as had Pakistan, the United States, Israel, China, Iran, and EU governments.
The sadness and frustration of defeat was so compelling that 18 Tamils in Tamil Nadu committed suicide, most by setting themselves on fire.
I spoke with many hundreds in 15 talks at unions, grass roots groups, political parties, schools and three universities. I was an invited speaker at a rally of tens of thousands in which two dozen pro-Tamil Eelam (meaning nationhood for Tamils) groups and political parties unified to demand that Sri Lanka government-military leaders be investigated and tried for war crimes and crimes against humanity (See the UN expert panel report on accountability). When I raised my fist while wearing a Che t-shirt, the crowd roared. (3)
DIFFICULT TO UNDERSTAND WHY

Most who spoke with me wanted to know my opinion about why this land of solidarity had sided with the "exploiters", referring to Fidel's principle. A few knew that all states sometimes make decisions based on political expediency. But what could be the advantage of siding with Sri Lanka when every other state does so regardless of its political or economic color?
My inadequate answer was: their view of unity among the sovereign states within the Non-Aligned Movement (NAM), which is related to Fidel's absolutism about unity vs: separatism; Cuba's position against the use of terrorist tactics in guerrilla warfare, which Tamil armed groups such as the Liberation Tigers for Tamil Eelam did sometimes succumb to; and the recent role that China plays in economic and military support to Sri Lanka that allows it to obtain a major military and commercial port there coupled with the current economic dependency that Cuba has with China, and its economic role as well in many Latin American and African countries.
But where is the morality in this decision? The answer may entail the need to have clear separation of powers between state and party, to have an educated people about foreign policy as well as national policy.
I suggest to my new friends to communicate with grass roots movements, with the indigenous movements in the Andes, with unions and political parties, and eventually move up to the state level.
The new constitutions in the Andes grant equal rights to the indigenous, recognizing their languages on equal par with Spanish. This is what Tamils want.
US-EU voices about "human rights abuse" are false, as they seek to justify attacks on countries they disapprove of such as Cuba, and they use it as an excuse to invade countries for their natural resources whether the governments abuse human rights or not.
It's time to join forces to Boycott Israel and Sri Lanka. Let's tell Cuba and ALBA that their reasons to oppose Israeli genocide against Palestinians are the same, in reality, as to why they should support the Tamil people against the Sinhalese chauvinist, neo-liberal, pro-imperialist, racist government of Sri Lanka.
Remind Cuba of what it just told the UN Security Council, as reported November 15. (4) "Cuba reiterated to the Security Council its commitment to fight against terrorism in all its manifestations and carried out by anyone and anywhere."
Solidarity persons and organizations supporting Cuba and other ALBA governments should also ask them to fulfill their commitment to fight against terrorism "regardless of motivation, especially state terrorism"—as Cuba contended at the UN.
—
NOTES:
(1) "Those who are exploited are our compatriots all over the world; and the exploiters all over the world are our enemies…all the revolutionaries of the world are our brothers" Fidel said to Lee Lockwood, writer/photographer.
" Proletarian internationalism is a duty, but it is also a revolutionary necessity. So we educate our people." From Che's "Socialism and Man".
(2) http://dissidentvoice.org/2011/11/cuba-alba-lands-are-tamils%E2%80%99-natural-allies/ [4]
(3) http://dissidentvoice.org/2011/11/cuba-alba-lands-are-tamils%E2%80%99-natural-allies/ [4]
http://www.theweekendleader.com/Causes/815/Eelam%E2%80%99s-Left-turn.html [5]
(4) http://www.escambray.cu/Eng/Special/cubavsterror1111151124 [6]
-------------------
Written for www.HavanaTimes.org
8 Comments To "Cuba's Contradictory Stance on Tamils"
#1 Comment By mr s.k.Jothipala On November 26, 2011 @ 3:12 am
I daily have same qustion like him.why cuba, latin america go with srilankan singalish? I thing srilankan comunist part gave tham wrong informations to them ; srilankan comunist party dont have any grassroot tamil idology. srilankan comunist party serve only for singalise ,They are singala racist comunist party?????strange no that is truth.they say one do none or diferent ,like rajapaksa government.
#2 Comment By Sri On November 27, 2011 @ 3:32 pm
Ron Ridenour has set out the facts. How then did the Havana Government fall for the official SL position and fall in line with the Arab countries which are mostly in ferment under the Arab spring. Corruption is fading out. Truth should survive.
#3 Comment By Sandy Vadi On November 27, 2011 @ 8:38 pm
Dear Editor,
Mr. Ron Ridenour's "Cuba's Contradictory Stance on Tamil Struggle' (Havana Times, November 25, 2011) is a strong message that needs to be spread widely around the countries which have two set of different standards for themselves. Not only does this apply to the Cubans, it also applies to many of the 'pretended champions of the Palestinian cause' who voted in favour of Sri Lanka at the Human Rights Council in 2009 and helped Sri Lanka to continue to detain over 300,000 Tamils behind barbed wire fences.
Some of the staunch supporters of the Sri Lankan regime who praised the 'mass massacre of Tamil civilians' as 'humanitarian operation', are now going through the Arab Spring, thus making it difficult for the Sri Lankan president to take a public stance or political statement.
Just about two years ago, the pro-Sri Lankan media trumpeted with pride about President Rajapase's achievement of sitting next to Colonol Gadhafi during Libya's 40th Revolution Day celebrations. In january 2011, just prior to the Libyan Spring, President Rajapakse dispatched his eldest son Namal -, being groomed to be his heir and in an apparent bid to preserve the Rajapakse Dynasty- to Tripoli to establish strong relationship with Saif Al Islam, Gadhafi's heir at that time. It was also reported, Sri Lankan President, with few other leaders, offered help with sanctuary during the final days of Colonol Gadhafi. The main reason for the help was the extent of the conspiracy which targets sovereignty, stability and national unity of the Libyan people.
Sri Lanka, like all these regimes, is another 'make believe' champion of the Palestinian cause. It is a sad fact of life for the Palestinians to know who provided direct support, the modern military equipment, lethal fighter jets and specialized intelligence to Sri Lanka's genocidal anti-Tamil killings and who continues to supply Sri Lanka with arms and military training even after the United States and Britain cutt off military supplies to Sri Lanka. Fidel Castro of Cuba once said in the UN General assembly to put an end to the genocide against the Palestinian people that is taking place while the world stares in amazement. Sri Lankan President Rajapakse has gone one step ahead saying Jerusalem will be the capital for Palestine while shedding crocodile tears for the thousands killed in the Gaza strike.
Despite the rogue regimes helped defeat the UNHRC vote in 2009, last year, the three-member panel from the United Nations submitted a 216-page report on Sri Lanka detailing the inhuman behaviour of the Sri Lanka's mono-ethnic military and the awful scenes of brutality from starvation of civilians, repeated shelling of hospitals to herding civilians to a narrow strip of 'No Fire Zone' before killing upto 40,000 Tamils enmasse. There is video footage recorded by Sri Lankan soldiers that shows the corpses of women being thrown into the back of a truck for disposal, as if they were logs, by the smiling soldiers.
Barbara O'Brien, a Buddhist spiritual author wrote that Sri Lanka has been attempting to establish a Buddhist military kingdom for long time and quoted Sri Lankan leaders as "a demographic majority with a dangerous minority complex of persecution." As far as back in early 80's, after one of the major ethnic riots occurred in Sri Lanka, the International Commission of Jurists Review stated "The impact of the communal violence on the Tamils was shattering. More than 100,000 people sought refuge in 27 temporary camps set up across the country. The evidence points clearly to the conclusion that the violence of the rioters from the majority population on the Tamils amounted to acts of genocide" Leo Kuper, in his book ' Prevention of Genocide (1985)', said in commenting on the failure of the UN Sub Commission on Human Rights to condemn the genocide attack (July 1983) on the Tamils, thus, "It is unfortunate that the United Nations did not take a firm stand at this stage'.
North African and Arab countries are not surrounded by heavily populated geopolitics vying for dominance in the Indian Ocean. The regimes there do not have the luxury of conducting an unwitnessed war like what Sri Lankans did. There is no barbaric frenzy of ethnic fanaticism like what we witnessed in Sri Lanka during several ethnic riots for the past 63 years since independence. There is nothing that can to stop an Arab Spring or liberation of oppressed people.
As Mr. Ridenour rightly said "Cuba and ALBA cannot continue to play a dual role in crying out for a 'Palestinian genocide' on one hand and facilitating genocide in supporting the Sinhalese chauvinist, neo-liberal, pro-imperialist, racist government of Sri Lanka.
Many thanks,
Mrs. Sandy Vadi
Toronto, Canada
#4 Comment By eureka On November 28, 2011 @ 7:58 am
Ron
Tamils can't thank you enough for all what you have been writing for years.
Sandy
You have convincingly put the argument on behalf of many.
#5 Comment By Shiva On November 28, 2011 @ 11:56 am
"Most Tamils in Sri Lanka and in Tamil Nadu, a southern state in India just a few kilometers from Sri Lanka, were admirers of Fidel and Che and had followed the Cuban revolution with enthusiasm".
YOU MUST BE JOKING.
I cannot remember a single instance of the Tamil political parties in Sri Lanka defending Cuba. (Exceptions are the left parties which have been weak among Tamils especially since the late 1970s). The Sinhala polity, for all its faults, had been generally supportive of Cuba, except for the right wing UNP.
Even the present regime (totally lacking in anti-imperialist content except for the occasional empty slogan) has been supportive of Cuba.
The Tamil nationalists of Sri Lanka have always sided with imperialism and India.
Support for Cuba in India grew as a result of a strong left in some regions and Indian geopolitical considerations. (Ties with the USSR were strong until the decline of the USSR in the 1980s and the strengthening of the pro-US right in India since the 1980s).
The new found affinity of the opportunist Communist Party of India for the Sri Lankan Tamils needs careful examination.
These 'communists' who were partners of Indira Gandhi in her excesses during her 'Emergency Regime' in the mid 1970s never supported self-determination in Kashmir, Nagaland or Manipur, which have a more legitimate case than the Sri Lankan Tamil nationality.
The Maoists were misled into supporting the LTTE for a while. They now know what a right wing outfit the LTTE was.
#6 Comment By Kuna ES On November 28, 2011 @ 3:38 pm
Dear Editor,
As you know the Sri Lanka is a much more complex place now. It is a country responsible for 'war crimes' committed against section of its citizens (Tamils) with the direct of political and military leaderships, dire violation of both international humanitarian and human rights laws, and the perpetration of unlawful acts of all sorts against its Tamil citizens including journalists, media personals, aid workers, intellectuals, religious leaders and rights activists.
Mr. Ron Ridenour's "Cuba's Contradictory Stance on Tamil Struggle' brought these facts to the world attention. I want to take this opportunity to express my sincere whole hearted appreciation to Mr. Ron Ridenour and the Havana Times for bringing this to the world and calling on Cuba and other ALBA governments to fulfill their commitment to fight against terrorism "regardless of motivation, especially state terrorism"—as Cuba contended at the UN.
While, Tamils' serious plight multiplying into many folds even after the war ended almost two and a half years ago, Instead of using the 'end of war' situation to bring about peaceful, long lasting and acceptable solution to the past 63 years of Tamils' legitimate grievances, the authoritarian Sri Lankan President Mahinda Rajapaksa become as an elected dictator of the country.
It is imperative that unless Sri Lanka's 'war criminals' are punished for their crimes against humanity and genocide of Tamils, the "Sri Lankan Model" would become a nightmare in the future for the world to comprehend.
I strongly believe that Mr. Ron Ridenour and the Havana Times will continue to voice for the voiceless and oppressed Tamils in Sri Lanka, and press the rest of world to bring about peaceful, acceptable and long lasting solution to the past 63 years of legitimate grievances of Tamils in Sri Lanka based on Tamils Right to Self-Determination.
Yours truly,
Kuna ES
#7 Comment By Noel On November 28, 2011 @ 4:57 pm
Thank you Ron for the excellent article you wrote regarding the double standards adopted by certain countries with regard to Sri Lanka.We need people like you to continue our struggle for a separate state.
#8 Comment By anand On November 30, 2011 @ 12:55 pm
To The people of cuba, We want cuba to support the tamils in eelam in lanka….we are struggling to get independence from this racist srilankan govt…..which killed lakhs and lakhs of our people…..whatever be urs political and economical tie-ups ….we want cuba's support in getting freedom……..we need ur support….pls help…..
--------------------------------------------------------------------------------